Flights from Chicago (ORD)
Chicago, one of the largest cities in the United States of America is also one of the most populated areas in the Midwestern region, in the state of Illinois. Often referred to as the Windy City, the bold skyline has buildings like the John Hancock Center, neo-Gothic Tribune Tower and the Willis Tower. The decidedly urban atmosphere has necessary green spaces as well such as the Millennium Park. The Field Museum is another significant destination in the city. The O'Hare International Airport (ORD) and the Chicago Midway International Airport (MDW) are the two airports in the city, of which the former is the busier one. All Chicago to Jaipur Flights generally depart from this location.
Jaipur, one of the main cities in India is the capital of the largest state of Rajasthan in the country. Deeply rooted in history, royal palaces are the most visited monuments in Jaipur. The City Palace Complex located at the centre still serves its part as a partial royal residence today. An open-air ancient observatory of astronomy, the Jantar Mantar is located across the City Palace is a true marvel that draws tourists from all over the country. The Jaipur International Airport (JAI) is the primary airport connecting the area to the rest of the world. All Chicago to Jaipur Flights are scheduled to land within the premises.
Cheap Flights from Chicago to Jaipur (ORD to JAI)
All Chicago to Jaipur Flights cover about 7562 miles. Major airlines like Virgin Atlantic, Air India, Jet Airways, Etihad and others have scheduled flights from Chicago in Illinois to Jaipur in Rajasthan, and the minimum flight time required is 19 hours 55 minutes.Book Cheap Flights from Chicago (ORD) to Jaipur (JAI) now
Popular Air Routes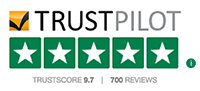 Best Prices Guaranteed
We always Guarantee you Travel for Less with the Best Price on Flights, Hotels & Vacations.
Satisfied Customers
We hold our values tight and we have Millions of Satisfied Customers Worldwide.
Exclusive Deals
Exclusive Airfare Contracts, and Insider Consolidator Deals which no one else can offer.
24X7 Support
Have a question? Need to plan itinerary? We're here to help. Our customer Service is available 24x7.
Superior Customer Service
Our Trip Experts are well versed and committed to provide you the best-in-class service in the quickest way.