Flights from Chicago (ORD)
Chicago, often called the 'Windy City' in Illinois is one of the largest and most populated areas in the United States of America. Famous for its bold skyline, buildings such as the John Hancock Center, neo-Gothic Tribune Tower and the Willis Tower are conspicuous to Chicago. The urban atmosphere is balanced by the green stretches of the Millennium Park in the city. The Field Museum is another key destination for tourists. There are two main airports catering to Chicago and the surrounding areas. Of these, the O'Hare International Airport (ORD) and the Chicago Midway International Airport (MDW), the former is the busier location. All Chicago to Trivandrum Flights depart from either of these airports.
Flights to Thiruvananthapuram (TRV)
The city of Thiruvananthapuram in Kerala in south India is more commonly known by its colonial name 'Trivandrum'. This Tier-II city in the country had been the capital of royal Travancore family from the 18th to 20th centuries, and is presently the capital of the state. The city, therefore, is jam-packed with both historical and political significance and continues to be relevant even today. The Trivandrum International Airport (TRV) serves Thiruvananthapuram and the surrounding areas and is the way in for all Chicago to Trivandrum Flights.
Cheap Flights from Chicago (ORD) to Trivandrum (TRV)
The distance between Chicago and Trivandrum may be estimated to be about 8814 miles which can be covered by Chicago to Trivandrum Flights in a minimum time of 20 hours and 5 minutes. Many trusted airlines like Air India, Etihad, Qatar, Emirates and others have many flights leaving Chicago and bound towards Trivandrum. Book Cheap Flights from Chicago (ORD) to Thiruvananthapuram (TRV) now.
Popular Air Routes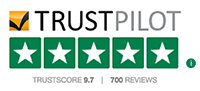 Best Prices Guaranteed
We always Guarantee you Travel for Less with the Best Price on Flights, Hotels & Vacations.
Satisfied Customers
We hold our values tight and we have Millions of Satisfied Customers Worldwide.
Exclusive Deals
Exclusive Airfare Contracts, and Insider Consolidator Deals which no one else can offer.
24X7 Support
Have a question? Need to plan itinerary? We're here to help. Our customer Service is available 24x7.
Superior Customer Service
Our Trip Experts are well versed and committed to provide you the best-in-class service in the quickest way.