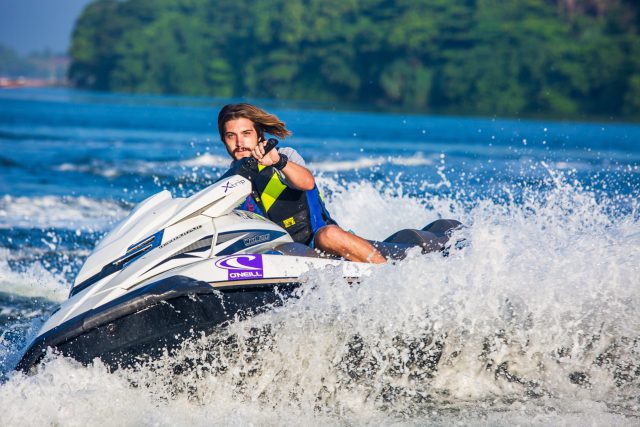 Living on the same old mundane routine may, at times, appear to be mentally crippling, especially if you are a millennial like me. People, who have a penchant for adventure are hardly at rest anytime as they are always looking out for some adventure around the corner and why not?
There are a plethora of destinations in India which allows visitors to engage in adventure sports such as skydiving, skiing, scuba diving, paragliding and more. This article explores the seven popular water sports destinations in India. These are definitely for you if you are a beach-baby as well as an adventure junkie.
Watersports in India
There are a number of destinations in the country which are known for being the hotspot for extreme watersports. Here are some of the most common types of watersports option for you to consider in case you would like to add one (or more) to your bucket list:
   River Rafting– Also known as white rafting, the idea is as simple as paddling an inflatable raft to navigate from one point on a river to a particular distance.
   Wake Boarding– It is a very popular water sport which requires the rider to ride a wakeboard towed by a motorboat. The speed of the motorboat may typically be 30-40 kmph.
   Scuba Diving– Here, the individual gets to dive underwater with the help of an underwater breathing apparatus known as scuba.
   Kayaking– The activity involves a small and narrow watercraft known as Kayak and the individual paddles the kayak to navigate across the water.
   Jet Skiing– Just as the name suggests, the individual here rides a jet ski on the water surface. It is one of the most popular water sports in India.
There are also other water sports popular in several other destinations in India including bamboo rafting, banana tube boat ride, kneeboarding, parasailing and surfing which leaves you with a number of options to choose from if you have been craving for some adventure lately.
Best Destinations in India for Watersports
Every city in the country has to offer something in addition to splendid destinations, mouth-watering cuisine and indelible experience lodged into the memory of the visitors such that it qualifies as an adventure for a lifetime. The additional offering comes in the form of recreational sports or activities. There are many destinations in India wherein you may sign in for some adventure sports.
Here are 7 best destinations in India you need to know if you are enthusiastic about water adventure sports:
 Rishikesh– This small town in Uttaranchal has something uncanny about itself which draws myriad visitors every year. Not just because of the spiritual significance of the place, Rishikesh attracts visitors because of its rich heritage, varied range of flora and fauna and also for being a hotspot for adventure sports. Clear waters of the Ganges rushes playfully all along, making Rishikesh a bustling spot for white water rafting. The course runs as long as 36 km, from Kaudiyala to Rishikesh. One may choose kayaking as well to explore the best of nature that it itself offers at Rishikesh.
 Kerala– This particular part of the country seems to have been blessed in abundance by Mother Nature. The green tea gardens, glittering lakes, exotic beaches, varied wildlife appeals so much to its visitors that this 'backwater bay' tops the list of favorite travel destination for many. Tourists not only come seeking serenity in God's Own Country but it attracts adventure lovers too! Enthusiasts may indulge themselves in a number of extreme watersports activities such as catamaran sailing, parasailing, canoeing, scuba diving, surfing, and snorkeling. No wonder Kerala qualifies as one of the major destinations for watersports.
   Andaman and Nicobar Islands – Once an infamous Penal Colony of the British, Andaman and Nicobar Islands has relics of the past scattered all over its dimensions. Touring the Andaman and Nicobar Islands, the clear bluish-green sea waters are sure to draw you towards adventure sports like snorkeling, underwater sea walking, scuba diving, glass bottom boating, seaplane ride, parasailing, jet skiing, and mangrove kayaking. Visitors may also enjoy dolphin watching, sports fishing and other activities like banana boat riding.
   Goa – Now, you have to admit that Goa is not just beaches, churches, and cheap liquors; there is always something more to the excitement. Goa is dynamic, a place where every day is a carnival and every night a party. Why just sunbathe in a Goa beach when you can do a lot more! Visitors engage in snorkeling, scuba diving, parasailing, deep water diving, jet skiing and other such watersports with all their vigor. Surfing and dinghy sailing are some of the emerging adventure sports on the golden beaches of Goa.
   Lakshadweep– 'Lakshadweep' literally translates to 'one hundred thousand islands.' Over the years, Lakshadweep has been a favorite honeymoon destination away from the Indian peninsula. Its vibrant aquamarine plants and fishes often make visitors admire the beauty of the place in awe. You can sit in the serenity of the place, stare at the horizons and have a full heart or indulge in extreme watersports such as scuba diving, jet skiing, parasailing etc. Or do both, maybe?
   Gokarna, Karnataka– Looking for a short trip to a Goa alternative? Gokarna is the perfect place to pack your bags and head to. Tourists can also spend some fortune on water sport activities and take some more memories back with them.
   Bhimtal, Nainital– The beautiful small town of Nainital has great things to offer to the ones who visit. The beautiful Bhimtal lake, located just next to the popular hill station in Nainital, attracts a good lot of people for it offers a wide range of watersport activities such as boating, kayaking and also zorbing. It is the ideal destination to get away with your loved ones in case you are on a budget.
Have you tried any of these watersports yet? Well, if not, do not shy away if you visit any of these destinations the next time as it is all the fun that you need to have.