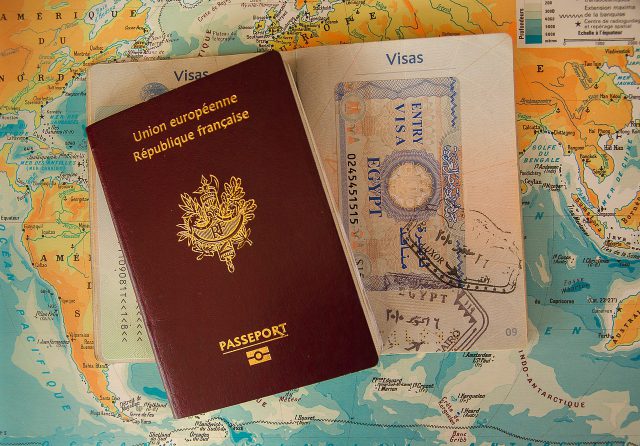 India is an exotic destination for Canadians travelers.  The vibrant colors, rural life, wonders of nature, diversity in culture and atmosphere etc. are indeed enticing. But how do you procure the right to travel to India and enjoy this tantalizing country?
The visa application process to India is not very hard. While many other countries around the world provide 'visa on arrival' which help the travels to receive a visa on the spot at the airports to enter that particular country, India does not provide it anymore. Alternatively, the Indian E-Visa system in place, as a substitute option for the convenience of the travelers.
CLICK HERE TO GET EXCLUSIVE FLIGHT DEALS
Here is the basic information you might require for planning your wonderful journey by applying for an E- Visa for Canadians in India:
Does Canadian Passport Holder Require a Visa to Enter India?
Yes, a visa is the travel document any Non- Indian citizen must have in order to enter India

Does India Provide On- Arrival Visas to Canadian Citizens?
No, India does not have provisions for on- arrival visas for Canadians anymore. However, you can apply for an E- Visa for Canadians in India online, at least 4 days prior to the entry.  
Which are the Types of Visas Available for Canadians to Enter in India?
Depending on the nature of the visit and extent of your stay, you can choose from the two main categories of visas called the E- Visas and Sticker Visas.
Sticker Visas have a long-term validity of 10 years and can be used for multiple entries to India. This visa requires an application which needs to be processed through the concerned Indian Embassy. It is time-consuming and is necessary for long stays, to multiple entries and for obtaining employment. It includes:
–    Student Visa
–    Intern Visa
–    Film Visa
–    Journalist Visa
–    Conference Visa
–    Long-Term Medical Visa
–    Diplomatic Visa
–    Employment Visa 
E- Visas are short-term visitor visas (Less than 60 days) for sightseeing, medical and business purposes.  You can obtain them by applying online only 4 days prior to your journey through a simple process. It is most commonly used for travel and leisure purposes.  Hence, if you have short-term requirements, you can apply for an E– Visa for Canadians in India.
How do you choose the E- Visa Appropriate for You? Are They Further Classified?
E- Visa is further subcategorized into E- Tour Visa, E-Business Visa, E- Medical and E- Medical Attendant Visa. Depending on the purpose of your visit, you can apply for an E- Visa for Canadians in India. In case you have more than one reason among these for your visit, you are allowed to merge them according to your convenience.
What is the Eligibility to Apply for an E- Visa for Canadians in India?
–    Canadian Citizens who want to visit their friends or relatives, explore Indian tourist destinations, attend business events, experience medical tourism etc. in India can apply
–    The passport should be valid for at least 6 months from the date of arrival in India
–    There should be a valid return ticket from India as well as money to cover the expenses in India during the stay
What are the Documents Required for the E- Visa Process?
Generally, you need a photograph and a scanned copy of your passport bio page for the online application. The photograph of the applicant should satisfy the size and type criteria. It needs to be a passport sized photograph with white background. Please note that your application can be rejected if the photograph does not meet the specification. You will also need a clear image of your passport with your personal and country details printed.
When Do You Need to Apply?
The online applications have to be submitted prior to at least four days of your trip. Your arrival date can be within 120 days from the date of application.
Is the Visa Fee Refundable?  
A non- refundable visa fee is applicable for an E- Visa for Canadians in India.
How long does it take to process the payment?
It will take at least 4 hours to process your payment and the status to get updated on the website.  If errors keep appearing while making your payment, please note that your application ID will be blocked after the third attempt. Now you will have to lodge in a new application and generate a completely new application ID. In case, the payment is deducted and application status has not changed, you have to verify the payment status.
Do You Need to Carry a Printed Copy of the Visa to Enter India?
After submitting your application and verifying the payment, your ETA status needs to be confirmed in order to enter India. Please ensure that Electronic Travel Authorization is 'Granted' after processing your application on the website. You will need to carry a printed copy of ETA and it will be requested at the Indian Immigration. Hence, please make sure to have the approval and the copy of it before you start your journey to avoid any confusion later.
How long is Your Visa Valid?
Your E- Visa is valid for 60 days from the date of arrival. Double entry is allowed for E-Business Visa and E- Tourist Visa. If you are on E- Medical Visa, triple entry is permitted in a calendar year.  These visas are non – extendable and con- convertible. Make sure to ensure the validity before trying to enter on an E- Visa for Canadians in India.
Do You Need Health Certificates or Preventive Vaccinations?
Even though health cards are not mandatory on an E- Visa for Canadians in India, if you have visited Yellow Fever affected countries in the past few months before your arrival, you need to show a YELLOW FEVER VACCINATION CARD at the time of arrival in India.
Where in India Can You Enter with an E- Visa?
Entry through-Visa is valid in India only through 26 airports. They are Ahmedabad, Amritsar, Bagdogra, Bengaluru, Calicut, Chennai, Chandigarh, Cochin, Coimbatore, Delhi, Gaya, Goa, Guwahati, Hyderabad, Jaipur, Kolkata, Lucknow, Madurai, Mangalore, Mumbai, Nagpur, Pune, Tiruchirapalli, Trivandrum, Varanasi & Vishakhapatnam.  It is also valid through 5 designated seaports including Cochin, Goa, Mangalore, Mumbai, and Chennai. Even though the entry is limited through these specified locations, you can exit the country from any of the authorized Immigration Check Posts while on an E- Visa for Canadians in India in India.
Can You Hire Travel Agents?
Yes, You can. If you are confused about the visa application process, or if your application ID has been blocked due to errors, do not hesitate to hire a travel agent. But, always be aware of fraudulent agents and avoid them. Try to contact trustworthy and reliable agents who will deliver your money's worth to process an E- Visa for Canadians in India.