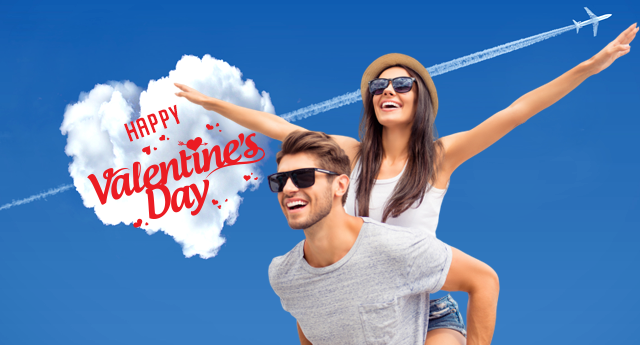 Valentines Day Sale: The Best Time to Enjoy Life
Valentine's has become a festival that is celebrated across the world, many organisations large and small look to capitalize on the same. Emirates and Etihad Airways, some of the leading names in the civil aviation industry have introduced,
To help families and couples to plan a cheaper tour to destinations across the world. This is a great opportunity for people who have not planned your trip till now. You could use the low fares and surprise your loved ones on a trip that they have been waiting for such a long time. 
Valentine's Day History
St Valentine's Day is an annual festival of love, friendship and admiration. Valentine's day is celebrated on the 14th February every year. People celebrate the day by sending flowers, gifts, cards to better half's, friends and family. Couples send Valentine's Day cards and flowers to their better half's and try spending quality time together to experience unadulterated love shared by his/her lover. 
Valentine's day is named after a Roman priest by the name Saint Valentine. He was a catholic priest who lived during the 3rd century. There are many stories regarding his life, most of them have evolved into folklore's and legends that we know today. 
The most popular story being the one which St. Valentine felt unfair about the conditions of Roman Soldiers who were not allowed to marry as the king at that time thought married men make weak soldiers. The King at that time Claudius II passed a strict law  banned the soldiers of Rome from marrying. He wanted the soldiers to pledge his full allegiance to Rome. A marriage would deter the soldier from doing so. 
St. Valentines secretly started helping Roman soldiers to get married in Christian faith. Soon the king found out about his deeds and ordered the soldiers to arrest him with immediate effect and execute him at a later stage. While in the prison he felt in love with the jailer's blind daughter. Legend has it that St. Valentines even cured the blinds of the girl. Before he was executed on 14th February in the year 270, St. Valentine wrote a love letter to the jailer's daughter signed 'from your Valentine'. 
How did Valentine's Day develop?
200 years after St. Valentine's execution, the city of Rome has been fully Christianize. The Catholic Church started playing a major role in the security. The Pope wanted to demolish every last remains of the paganism, for that he renamed the Pagan festival of fertility to St. Valentine's day. This is how Valentine's day came to be celebrated worldwide on 14th February. The pope declaration had helped Saint Valentine's Day to be part of the Catholic Calendar of Saints.
Current Day Valentine's Celebration
Current Day Valentine's day is celebrated with pomp and lights. People use Valentine's cards to share their admiration and love for their better half's. Valentine's day is one of the most celebrated festivals that transcend cultural and geographical boundaries. Valentine's Day has evolved from an experience shared between two people to a festival of joy and cheers celebrated by the entire community. Valentine's have transcended age boundaries as well making it a universal festival of love and beauty.