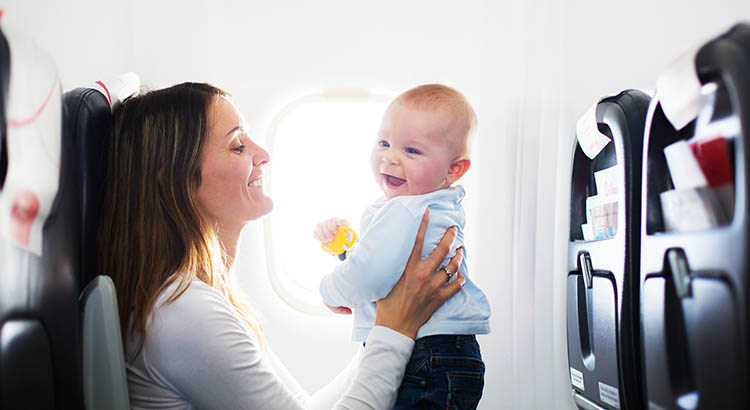 Traveling to any place with babies can be overwhelming, but planning is the key. There might be few surprises in your way, but a well- laid plan will keep you calm through the journey and help you handle any glitches. There are a few important tasks to do before you start your travel free of any tension.
Important Things to know before Traveling to India with babies in Flight:
The flight journey should begin with preparation of a list of items to be packed as per when they will be required in your trip especially while flying with babies. The following points will help you to know about the things while Traveling to India with Babies in Flight.
Choose the right luggage for flight travel to India
One handbag is necessary to keep all the documents and money. One carry-on bag is essential for all the baby goods needed on your flight to India. Try to keep the weight of both these bags under 7kg as you have to lift them along with the baby. Make sure that the bags are either backpacks or they have heels so they can be dragged on. Don't try to carry everything in hand.
One or two bags can carry your luggage as well as baby's luggage which will not be required immediately on the flight, and you can check them in. Preferably all should be trolley bags again. Travel light, as most of the things can be bought outside once you have landed in the city.
Arrange all the documents for you & baby and keep separate folders
Passport, visa, tickets, ID proof, are the basic things that will be asked for at multiple places. In case your documents are disorganised, it will create last-minute frustration. Make two copies of them and keep in separate bags for safety.
Apply for a visa well in advance as sometimes they require further details on your application and your visa arrival might get delayed.
One separate bag for all the items which the baby will need
Diapers: Try to pack all the things which the baby will require during the flight journey till you reach your designated hotel. For instance, pack a diaper bag having a diaper to cover each hour of your travel. There are few medical stores at the airport, but in case you use a particular brand of diaper, then it's safe to pack enough for long travel as medical stores may not carry all brands. Pack a few diapers in your carry on bag to do light traveling and keep the remaining in your check-in baggage. Don't try to take everything in your handbag especially if you're traveling alone. Remember you also have to carry a baby.
Food: Baby food should include all the meals for the day in case you will be in flight for more than half a day. Boiled water will be available on board, but carry the formula and preferably the bottles and the bowl which the baby will require. Even if food and utensils are provided on the plane, they may not be sterilised and as hygienic as you expect.
You may not be allowed to carry warm milk in your handbag or only a limited amount will be allowed. Make sure you take some baby formula that can be mixed with warm water which will be readily available. Try to keep semi-solid baby food which can be diluted with warm water instead of liquids as most  of the international flights have restrictions on fluids allowed. If possible, go for packaged food as airlines may ask you to take out all the contents of the bag in a tray for a security check. They are more suspicious of food which is in regular boxes and jars, unlike packaged food.
Baby toys: Pack light so keep only one or two toys that your baby likes. Play some music on your phone to distract baby so that you don't need most of the baby toys.
Clothes while Flying
Indian cities have varied climate and extreme temperatures. Research on your destination and other cities in your itinerary. Check the day and night average temperatures and pack accordingly for you and the baby. Especially for the baby, keep an extra set of clothing as well as a warm cover in the handbag in case the flight temperature is not optimum.
Avoid stroller and use a baby carrier
A baby carrier can help to keep baby close to you and keep your hands free to carry the handbags. If you go for a stroller, it will be an added luggage which will also take a lot of time during the security check.
Book a front seat on the Flight in advance
If possible, try to get a front seat when you book flights to India, so that your baby and you can have extra space. You can keep your entire luggage near you and easily make baby food or change the baby. Ask help from flight attendant if needed. The baby will feel less cranky in an open space.
Carry cash
There might be a scenario in which you may have missed an item or baby food or you run out of diapers and there is no ATM nearby. Cash is essential to tackle any unplanned emergency just in case your card doesn't work. Especially in India, you may encounter various shops that may not accept credit or debit cards of a few banks. In such a scenario, cash will be handy.
Ask for help
Don't hesitate to ask for help. People are usually ready to help travelers with a baby especially the flight attendants. They are trained to give preference to travelers with a baby. Some airports also have stroller facility in case you need. In case of an emergency in the airport, the ground staffs are always there to help.
Manage time
Reach airport well in advance as a security check with babies and baby luggage are usually more time-consuming. Most flights give preference in boarding to infants so in case your baby falls asleep, it's better to get on the aircraft early and relax. However, if your baby is awake, try to board after everyone and keep the baby occupied in the airport. If the baby spends less time cramped up in flight, the restlessness and crying will be in control.
It's a new environment for the baby entirely different from home. You can try to make your baby adjusted to a closed environment before you travel so that the change is gradual. There will be changing rooms for babies in all Indian airports, and even the flight attendant will help you in the flight. Once you are out of the plane, all airports have stores as well as markets nearby in case you need refilling of your supplies.
The above things which will guide you to make your trip comfortable while Traveling to India with Babies in Flight. Even with all the planning, the baby is going to cry, and you might face discomfort during your journey. The best way is to concentrate on distracting your baby and asking for help from people instead of getting worried about the curious gazes of strangers.