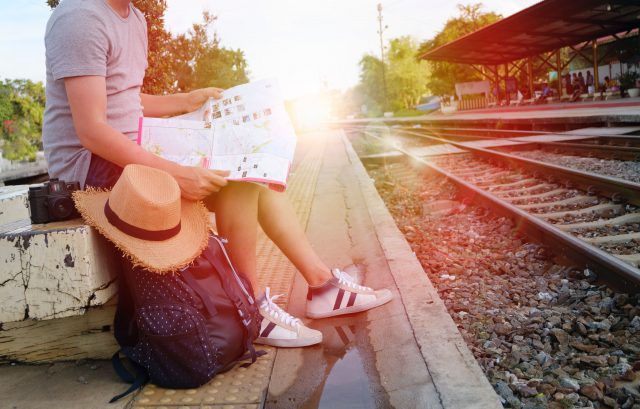 The Indian train ride can get quite rough, but it is not all bad. If you have traveled all the way from USA to India, you already demonstrate an adventurous spirit. Why not take it a notch higher, and take a train journey as well and experience the real Indian way of traveling.
CLICK HERE TO GET EXCLUSIVE FLIGHT DEALS
Here is the good bit – the carriages on Indian trains are cleaner than the railway stations and the platforms. The people are friendly, you will find them a tad too inquisitive. But they are being themselves and mean no harm. Their personal questions to you might seem a bit odd, but that is normal for them. Read more about the general behavior of the Indian people
The bad bit is that the toilets are not as clean, as you would expect them to be. Out of the two toilets on each end of a carriage, only one is a WC. But, more on that later. The train can get noisy, with hawkers selling foodstuff, people listening to music sans headphones and having loud conversations…
Before you book your tickets
The seats are categorized into different classes – 1AC, 2 AC and 3AC. AC stands for air conditioning.
1AC is like the First Class on an aircraft. The berths are bigger, the compartment spacious, the curtains cleaner, the bedding better and a fan in addition and an exclusive point for charging gadgets. 2AC is much the same as 1AC, but there is no fan, and the berths are slightly smaller and there is a single charging point, to be shared among four passengers. 3 AC has three berths, with a total of 6 in a compartment. The berths are narrower and the compartment small.
Passengers converge on the lower seat, during the day, and if you have the lower seat, you can't sleep.
Booking tickets
It is best to book your tickets online and do so in advance. The wait can be awfully long, and it makes sense to book your tickets months in advance, as soon as you know of your travel plans. You have the option of booking online via the official website of the Indian Railways, but there is always some glitch. The worst being that international cards generally do not get accepted.
It is easier to get the reservations done through a trusted travel agency. It saves you all the trouble.
Book the best seats
You cannot select a seat in a carriage but can request a choice of seat. There is the top berth, lower berth, side top berth, and side lower berth, and there is a middle berth in the 3AC.
If you are a solo traveler you can request a side lower berth. It gives you your own space and privacy. There is a curtain that you can draw, and make your own cocoon.
Day tickets
Well, these tickets come cheap, but you have to be prepared to deal with all the jostling and people fighting for space. I do not recommend it.
RAC/Waitlisted ticket
Some tickets have a RAC or waitlisted printed on them. RAC stands for 'reservation against cancellation'. These tickets do not assure you a seat, but you can take a chance. RAC tickets are changed to confirmed tickets, sometimes just before the departure time, but the tickets are usually confirmed a few days before travel when someone cancels their reservation. In the process the waitlisted passengers' status shifts to RAC.
Passengers with RAC ticket can travel, but they share a berth with another passenger – not very comfortable.
AC in trains
The air conditioning on the trains in India is very effective. It gets really cold, and though a blanket is provided, it is good to bring a jacket along. Non-Ac carriages get hot, windy and dusty.
Bring your own pillow
An inflatable pillow comes handy and so does a sleeping bag. Though the Indian Railways provide bedding, which includes a bedsheet, hand towel, pillow, and blanket, I always worry about their cleanliness. They look washed and ironed, by why take a chance.
Chair car travel
Certain trains in India, plying on specific circuits have the chair car. These are ideal for day trips. You get a comfy seat assigned to you, the carriage is air-conditioned and meals are provided.
Trains with chair cars include the Shatabdi Express, which are super-fast trains that cut down the travel time.
Bring your own food
Meals are served on Indian trains, and you can also buy them at stations and there are hawkers who come around selling tea, coffee, and snacks. However, you might not find any of these palatable. They are made to satisfy the Indian taste buds, are oily and spicy.
You will always find canned and bottled drinks – cold water, coke, red bull, sprite, cookies, crisps etc.
You also have a choice of downloading food delivery apps and request a pizza delivered to you on the train. But this service is available only in select stations. Food served on the Shatabdi is pretty hygienic, prepared on board.
However, carry some nuts and fruits and packed goodies.
Toilet paper & handwash
You will need toilet paper because the trains do not have any. I also recommend a disinfectant spray, to use on the toilet seat, or just spread some tissues before you seat yourself down.
Hand sanitizers are a must, you do not want to catch any viruses, infections, and bugs.
Set an alarm
If you have to alight at your destination before dawn or in the middle of the night, you will not have the train warden come to wake you. It is your responsibility to alight at your destination. So, set an alarm, so you do not oversleep.
Secure your belongings
Thefts can happen on a moving train. It is because there are so many unauthorized people moving up and down. Keep your belongings safe, chain lock them when you place them under your seat. Or else, keep your baggage where you can see it.
Final words
Do not worry about the small things, enjoy your train journey. Make the most of your adventure, and more importantly create some beautiful memories of your time traveling across the country.
Are you planning a trip to India Book cheap flights to India with Taj Travel.