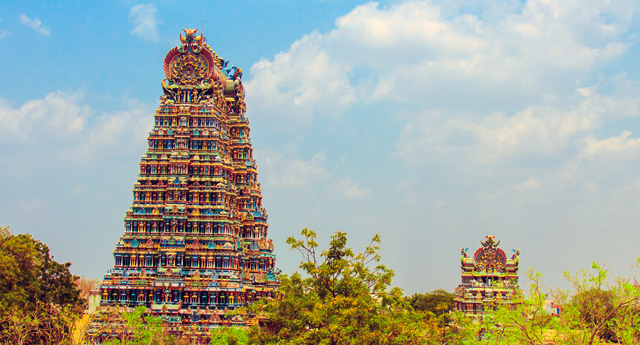 South India the undiscovered jewel of India: Places to visit in south India
India is the seventh largest country in terms of land area and the second largest country in terms of population. Indians have a long and continuous history dating back to one of the first known civilizations across the world. People from all over the world try to visit India through its multiple international airports. All the major airlines that fly international flights operate flights to multiple destinations in India. People can choose economy class flights, premium economy flights, business class flights or first class flights from the multiple flight options available at your fingertip.
Some of the must see places to visit in south India include sites like:
Andaman and Nicobar Island
Andaman and Nicobar Island is world famous for its beautiful pristine beaches. Very low crowds, lush greenery, and crystal clear waters make the island a perfect holiday retreat to calm your senses. The sun-kissed beach is very clean and tidy, and there is enough infrastructure for tourists to stay on the island comfortably. Andaman and Nicobar Islands have an airport by the name Veer Savarkar International Airport. This is a domestic airport hence for people who want to travel to Andaman and Nicobar Island can choose to travel to Indira Gandhi International Airport, New Delhi. There are frequent flights from New Delhi to Andaman and Nicobar Island. Andaman and Nicobar Island airport is well connected with all major cities in India. 
Travelers can enjoy various water sports activities like snorkeling, scuba diving, boat rides through the sea, parasailing,and so on. 
 The Bio-luminescence at night can make the island look magical at night. Andaman and Nicobar Islands are world renowned for swimming elephants. The water surrounding the sea is crystal clear and enjoying quality time in these waters is a rejuvenating experience. Andaman and Nicobar Islands are all about being close to nature. Hence having a chance to drink fresh coconut water is an experience like no other. 
During the stay, most visitors try to switch off all their gadgets and thus remain off the grid. Remaining off the grid and finding ample time all for yourself will help you relax and enjoy the moment and the surrounding you live in. The capital of Andaman and Nicobar Island, Port Blair is a beautiful little city that is mostly self-sufficient. A small trip through the city can help you understand the culture of the city. 
Hampi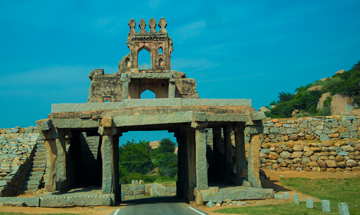 Hampi is considered as one of the oldest cities in the world. It was the capital of the famous Vijayanagara Empire. Hampi in its zenith day was a center of literature, artwork, culture, science, mathematics and so on. In 2019, the New York Times published an article by the name " 52 Places to GO in 2019", and in that list Hampi ranked second, creating a huge buzz across the world. Walking through the Hampi ruins will take back travelers to the olden days. The majestic building, the intrinsic carvings and the sheer size and grandeur of the buildings give travelers a glimpse of the rich tradition and culture that was prevalent during those times. The old ruins of Humpi attract a large number of international and domestic tourists alike. The city helps people to stay disconnected from the troubles and hassles of the modern-day lifestyle. The travelers can enjoy the beauty of nature and the man-made architectures created during the ancient periods. It was declared a Unesco World Heritage Site in 1983.
Must see sites in Hampi include places like Virupaksha Temple, Matanga Hill, Hemakuta Hill Temple, Kadalekalu Ganesha, Hampi Archeological Ruins, Zenana Enclosure, and so on. There are hotels that satisfy the requirements and budgets of each traveler. Hence experiencing Hampi will be a breeze. 
How to Reach Hampi
As a traveler you could either fly to Bangalore International Airport and from the airport visitors can take a taxi to Hampi. Another alternative is the use of Belgaum airport, the airport is purely used as a domestic airport hence as an international traveler you might require a connection flight to Belgaum airport. From the Belgaum airport, it is easy to take a taxi to Hampi. If you are looking to travel by train (which is a unique experience in itself), you can reach Hospet station. Hospet station is just 13 km from Hampi, the traveler can take a taxi from the railway station to Hampi. Hampi is well connected by road from Bangalore. If you are interested in long rides, rent a bike from Bangalore and travel to Hampi. 
 Gokarna
The name Gokarna means the ear of the cow, Gokarna is a quiet little hamlet that attracts a large number of international and domestic tourists alike. Gokarna has many old temples situated in its locality. These temples are famous for their intrinsic artwork. Gokarna has been transformed from what was a hippies paradise to a place to relax and rejuvenate mind and body. Gokarna has many yoga and meditation teaching locations that help you to learn and understand the meaning of inner consciousness. It is not uncommon to see people doing yoga in the pristinely preserved beaches of Gokarna. 
People from all walks of life come to Gokarna to celebrate life and experience life to its fullest. The place is blessed with abundant nightlife, as more and more tourists come to experience peace in their life. Infrastructure in terms of hotels and other accommodations are being developed to accommodate the increase in demand. 
History of Gokarna
Legend has it that Ravana's Shiva link was unknowingly kept in Gokarna, this Shiva link was given to him by Mahadev himself, thus making it a must visit place for Hindus. The place has been attracting a large number of people from across the country to do last rights pujas because of these reasons. 
Some of the must see locations in Gokarna include places like Sri Mahabaleshwara Swamy Temple Gokarna, Half Moon Beach, Om Beach, Murudeshwar (the temple has a large statue of Lord Shiva near the beach). Mirjan fort, and so on. 
There are a lot of shops that sell antique, artistic goods in Gokarna which are distinctively Indian. Travelers will have an opportunity to know more about Hinduism, spirituality, soul, mind and so on. Many have had an opportunity to experience life altering events that bring positive changes to their lives and the people surrounding them. Gokarna is a mystic place that instantly calms the mind and body of individuals. The tranquility that one experiences while traveling through the location is just serial. 
Dabolim airport in Goa is the closest international airport to Gokarna. From the airport visitors usually take a taxi to Gokarna. If you plan to travel by train, there are direct trains from Goa to Gokarna that will make your journey comfortable and inexpensive at the same time. Plus, the experience of traveling through Indian trains is an add on bonus. 
Kanyakumari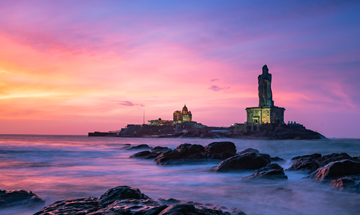 Kanyakumari is the southern tip of India. It is the only place in the world where three oceans meet. The three Oceans are the Bay of Bengal, the Arabian Sea, and the Indian Ocean respectively. Kanyakumari is a lush green area filled with coconut tree plantations and rice paddies. The city has so many attractions from old palaces to temples and other modern day marvels like large wind farms. Kanyakumari beach attracts a large number of tourists from across the world. Kanyakumari Vivekananda rock is a favorite tourist location for both locals and international tourists alike. Padmanabhapuram Palace is another major attraction in Kanyakumari that draws a large crowd. Visitors to Kanyakumari are blessed with delicious South Indian food served in banana leaf. 
If you are looking to travel to Kanyakumari by air then the best option is to take a flight from Thiruvananthapuram airport. It is an 80 km travel from the Airport, the traveler can use either AC coached buses or rent a car to Kanyakumari. There are options for people who wish to travel by bike. Most foreigners who travel to Kanyakumari prefer to travel on rented bikes. 
Conclusion
India is the land of many miracles, Indians have inherited a civilization that goes back to thousands of years. India has many wonders both natural and man-made that make the country a unique place to visit. Airtickets to India are pretty affordable as well. India is the country of contrasts, unity in diversity, India is truly incredible, incredible India!.