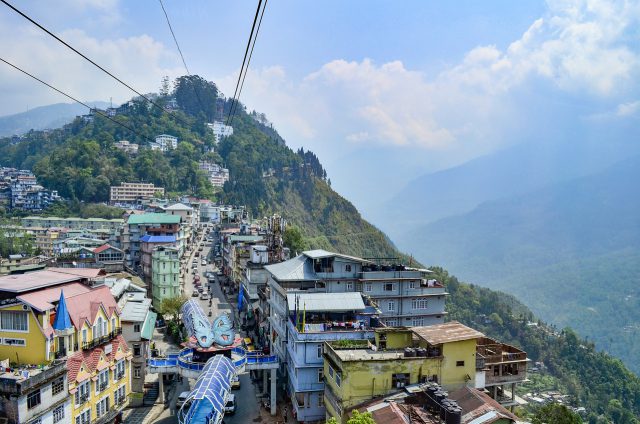 For all the people out there with exceptionally uncontrollable wanderlust, choosing a place is probably the most difficult task. There is so much to see and so little time. Previously unexplored, one of the most sought after destination in recent years is North East India. The 8 beautiful states that will captivate any person with its charm and beauty. All people who have been to the North East claim that it will leave you in awe. Like all good things in life, traveling to India doesn't come that easy. There are some issues pertaining to the security reasons and consequently, certain restrictions. But you can leave all the worries behind and travel if you obtain the required permits prior to your trip.
CLICK HERE TO GET EXCLUSIVE FLIGHT DEALS
All About the Travel Permits for North East India Tourists
Most Northeast India states need tourists to get permits of several categories to visit them. Ethnic violence along with the regions' bordering with China, Bhutan, and Myanmar are the major reasons behind this. Here's all you need to know about the permits for Northeast India tour to enjoy a perfect vacation.  Just remember the experience that is to ensure is worth every effort.
Inner Line & Protected Area Permits
Inner Line Permits are like a visa that is required to travel within the country, it regulates the stay of an Indian Citizen in "Protected Areas". Historically they were started by Britishers. It was a by-product of Bengal Eastern Frontier Regulations, 1873, that was meant to protect the Crown's interest in tea, oil and elephant trade.  It prohibited the British subjects from entering into the protected areas so as to prevent the establishment of any commercial ventures that could compeer Crown's enterprises. Although ILP was created by Britishers to safeguard their commercial interests, it is still used by India to protect the tribal cultures of North East India. Although it sometimes becomes a nuisance obtaining the ILP but it is generally easily granted. The documents required for an inner line permit include a passport size photo, an ID proof, and an address proof.

Foreigners can apply for both Protected Area Permit and Inner Line Permit if they possess an e-Visa for India. Though now the Indian Government has relaxed these permit requirements in order to promote tourism in the Northeast. Foreigners are now not required to obtain permits for visiting NorthEast Indian states such as Mizoram, Manipur, and Nagaland; however, permits still remain a requirement for Arunachal Pradesh and Sikkim. The Foreigners are nonetheless required to have themselves registered at the Foreigner Registration Office (District Superintendent of Police) within 24 hours of entry to each state. However, these relaxations are not applicable to the citizens of Pakistan, Bangladesh, and China, who continue to require prior approval of the Ministry of Home Affairs before their visit to these three NorthEast Indian states. NRIs are classified as foreigners in this process.
Permits for Arunachal Pradesh
Indian tourists need an Inner Line Permit in Arunachal Pradesh. The easiest way of getting it is through e-ILP which can be done through the official Government website of Arunachal Pradesh. It is granted in a single working day and is far easier as compared to other offline procedures. Furthermore, through this simple process of ILP, you can apply for various districts, apply in a group and even pay for it online. ILP can also be applied for through offline procedure. This can be done from any Government of Arunachal Pradesh office. In addition to this, the state government has also opened Inner Line Permit facilitation centers in Guwahati, Naharlagun, and Gumto railway stations where one can obtain ILP on arrival. ILP is granted for a period of 30 days.
Foreigners are required Protected Area Permit (PAP) for traveling in Arunachal Pradesh. The best of obtaining this permit is through a travel agent. But if you are persistent of doing things on your own, you can apply for PAP at the Arunachal Pradesh Deputy Resident Commissioner's Office in Kolkata or Guwahati.
ILP checks are done at some checkpoints or randomly in the state and can also be asked by hotels, therefore it is necessary to carry your Inner Line Permit all the time.
Permits for Mizoram
Indians need an Inner Line Permit which can be obtained any Mizoram House in the cities of Delhi, Kolkata, Guwahati, Shillong, and Silchar. There is also a provision of on spot grant of ILP at the Lenpui Airport, for tourists arriving by flight. The Foreigners are no longer required to get a PAP, but they must register themselves at the local Foreigner Registration Office (FRO) of the districts they visit within 24 hours of arrival. The state has a strict checking of ILPs and one is expected to show their Inner Line Permit when crossing over to Mizoram from any of the bordering states.
Permits for Nagaland
Obtaining Inner Line Permit in for Nagaland is not as easy as compared to other states. They do have an online portal to apply for the eILP but the website is hardly functional. Therefore one can only apply for the permit offline at the Nagaland House in the cities Delhi, Kolkata, Guwahati, and Shillong. One can also apply at the office of the Deputy Commissioner in Dimapur, but it is a cumbersome task. An easier way to apply for this permit, in case you have prearranged travel plans is through your hotels in Dimapur and Kohima or your travel agent who is planning your trip. Foreigners are not required to gain Protected Area Permit but are required to register themselves as mentioned above in the article.
Permits for Sikkim
Though Indians do not require a permit to enter into Sikkim, certain regions of Sikkim need Inner Line Permit for visitation. These areas are Tsongo Lake, Kupup, Yumthang Valley, Nathu La, Menmecho Lake, Chungthang, Lachung, Yumesamdong, Lachen, Thangu, Chopta, and Gurudongmar Lake. The permit can be easily obtained and arranged by travel agencies located in Gangtok.
However, foreigners require an Inner Line Permit to enter Sikkim which can be readily obtained at the Rangpo border crossing checkpoint. One will be required to produce photocopies of passport, Indian visa, and two passport-sized photos to obtain this 30 days permit. Foreigners are also required to obtain PAP for visiting North Sikkim and trekking in some interior regions of Sikkim. Tour operators usually arrange these permits and are only issued to groups of two or more foreigners traveling together, under a trekking/tour operator that is registered with the Sikkim Tourism department.
Permits for Manipur
As of now, there are no ILP required to enter into Manipur but there is an increased demand by the locals to bring the state under the protection of ILP. Indian tourists traveling through road via Dimapur or Kohima are required to possess an Inner Line Permit to pass through Nagaland. Foreigners are not required to have any permits but they must get themselves registered at the local Foreigner Registration Office (FRO) of the districts they visit within 24 hours of arrival.
Permits for Tripura, Meghalaya, and Assam Permits
These states do not require any sort of permits for both Indian and foreign travelers.
This is an exhaustive list of all the things you need to keep in mind while traveling to one of the most exotic places in India. Be prepared for the worst so that you can experience the best. Make sure to prepare beforehand. Since it requires a good amount of time and energy you can also avail the services of professional tour guides who are seasoned to comply with these requirements such as permits. Lastly, we promise that the experience that will ensue worth all the efforts.
Hope you got an idea about the travel permits to visit certain areas of North East India. However, it's not necessary to hold a regular tourist visa to apply for a permit. Those who are planning to travel from the US to India, especially the NorthEastern states better contact Taj Travel, one of the best travel agencies in USA to make your vacation enchanting and trouble-free.