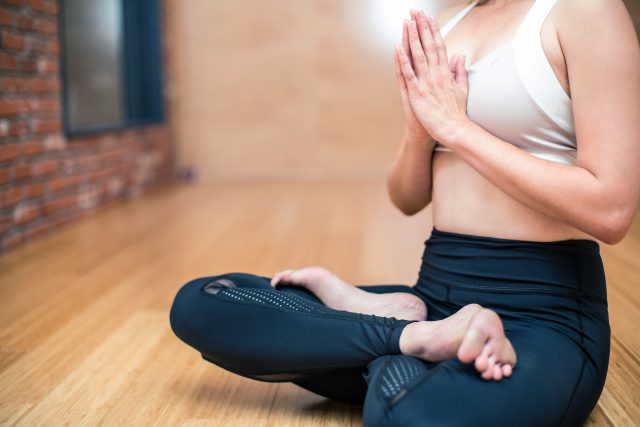 When your mind is stressed out, and you experience diverse emotions and feel like losing balance, you dwell deep into yourselves. You ask questions like "why me?", " What is the purpose of my life?", " What am I chasing"?  etc. At times like this, it is necessary to step back for a moment and to think about your spirituality. Being spiritual need not necessarily mean that you are religious. Planning your trip to India to attain more self-awareness and to rejuvenate body and mind, sometimes spiritual destinations in India can help you.
CLICK HERE TO GET EXCLUSIVE FLIGHT DEALS
Art of Living International Centre, Bangalore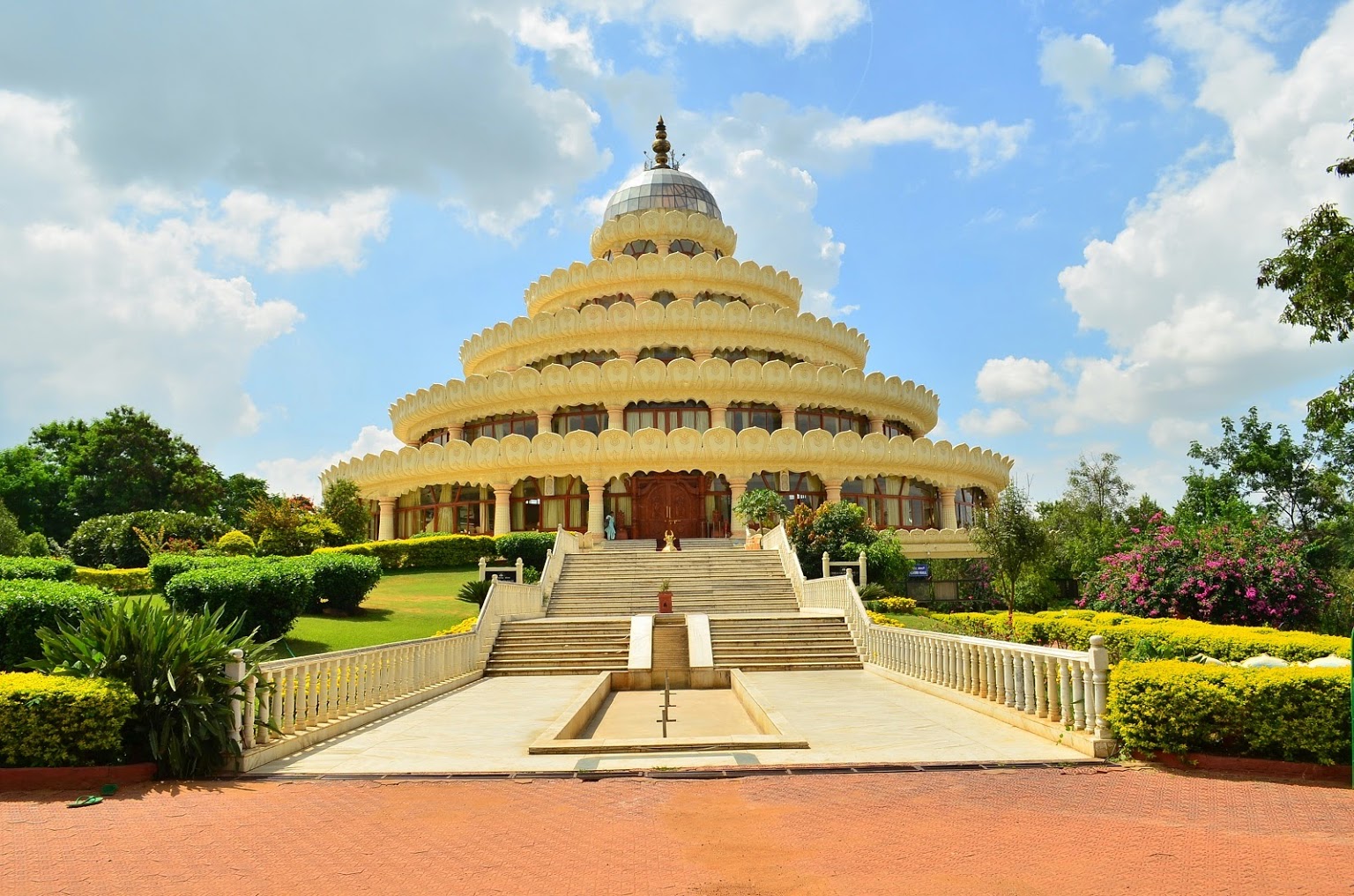 The art of living ashram located in Bangalore was founded by Sree Sri Ravi Shankar with the aim spreading happiness by improving mental health and spiritual growth. It was originally founded in 1986. The ashram is spread across 75 acres of land. Here, people from different background come together to clear their mind and to refresh their soul by leaving their worries behind. There are different courses offered here to the residents every week. The basic course is called Sudarshan Kriya where you will be taught how to practice it. There are advanced courses which help you to dwell deeper and to learn about themselves.  Besides the courses, in the evenings there are recreational activities taking place.the residents, sing, dance or even meditate to songs. In this ashram the residents are also required to do volunteer work. You will help to serve food, clean the ashram and premises. These are all considered as the path towards healing. Apart from Bangalore, the art of Living International also operates in other countries such as the USA, Germany and Canada. The happiness program conducted by this ashram has scientifically backed results which shows that by adopting certain practices, people can actually become happier and content in life.
Auroville, Pondicherry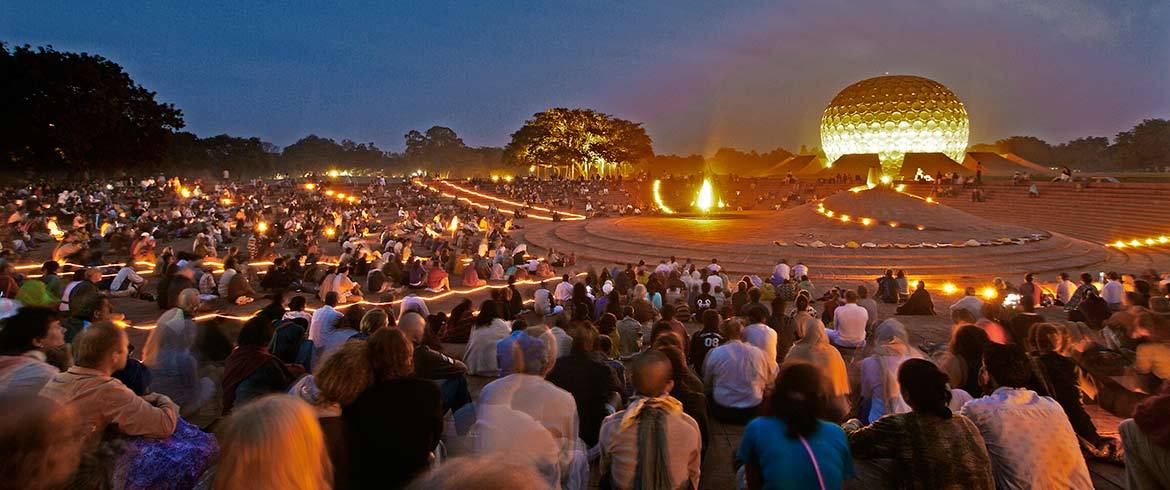 Auroville, also called as the city of dawn is an experiential township located in Pondicherry. In 1968, it was founded by Mirra Alfassa. The vision behind the establishment of Auroville was to build a township where people of any gender, without ethnicity differences, should be able to live to live in harmony and unity. Auroville is managed by a foundation called the Auroville foundation as per the Auroville foundation act passed by the Indian Parliament. Even though this township can accommodate around 50,000 residents, according to the initial plan, only 400 individuals from 20 countries have lived here over the initial 20 years. However, as of 2018, there are around 2814 residents including Indians, French and Germans. Auroville was widely featured and covered by the western media including the Guardian and Le Monde
Osho International Meditation Centre, Pune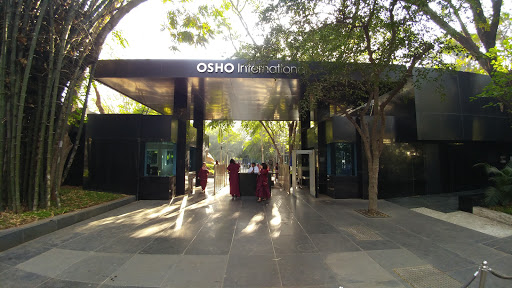 It is one of the largest and luxurious spiritual destinations in India. Starting from 6 AM, there are 10 Meditation sessions you can attend every day. Even though it is a spiritual destination, you will be completely amazed by the luxury offered here. There are huge swimming pools, tennis courts, spa, gym, internet cafe, and dining areas within the facility. There are also small banks and in stores within the facility. In the evening there are recreational activities, meditations and live performances for the residents. This place actually works as a meditation resort. There are options for attending a few sessions as well as for staying in the facility for the living- in program.
Krishnamurthi Foundation, Chennai

Situated in Chennai over 6.5 acted of land, this place is Rich in greenery. This place is a study center where visitors can learn about the memoirs and biographies of Krishnamurti. There are huge collections of CDs, DVDs, monographs, books on religion, science and philosophy in this study center. If you want to learn more about his teachings, you can be a guest at the facility and stay here to experience a quiet retreat. But, in order to be able to stay here, you need to register at least 15 days in advance. You will be served vegetarian meals. Guests who stay here are not allowed to smoke, drink or consume drugs on the campus or premises. You're also not allowed to use this place for business meetings or transactions. This place is for serious learning and you have to respect the regulations here. There's an archive available for you if you're interested to learn more about Krishnamurti which can be accessed with special permission. There's a bookshop on the campus for people who are interested to purchase books by and about Krishnamurti. You can also purchase CDs, DVDs, or MP3s.
Isha Foundation
Isha Foundation is located in Vellingiri Mountains over a land of 150 acres. The chief patron of this institution is Sadhguru Jaggi Vasudev. In this institution a huge host community co-exists.  It includes full-time volunteers, brahmacharis and residents. The aim of this foundation is to raise human consciousness to transform individuals and thereby spreading the message of living in harmony in the world. This place is dedicated to yoga practices and individuals are encouraged to learn it in depth by understanding all the dimensions of it. It helps to attain, spiritual, emotional and mental well-being of people. In this campus, there are accommodation facilities, huge meditation halls, underground water bodies and what not. There are people across the world travelling to this place searching for the meaning of their lives and to understand themselves better. The foundation course called Inner Engineering is very helpful to learn more about yourself and to attain some kind of peaceful state. By the end of the course, the aim is to realize the ultimate human potential within.
Paramarth Niketan, Rishikesh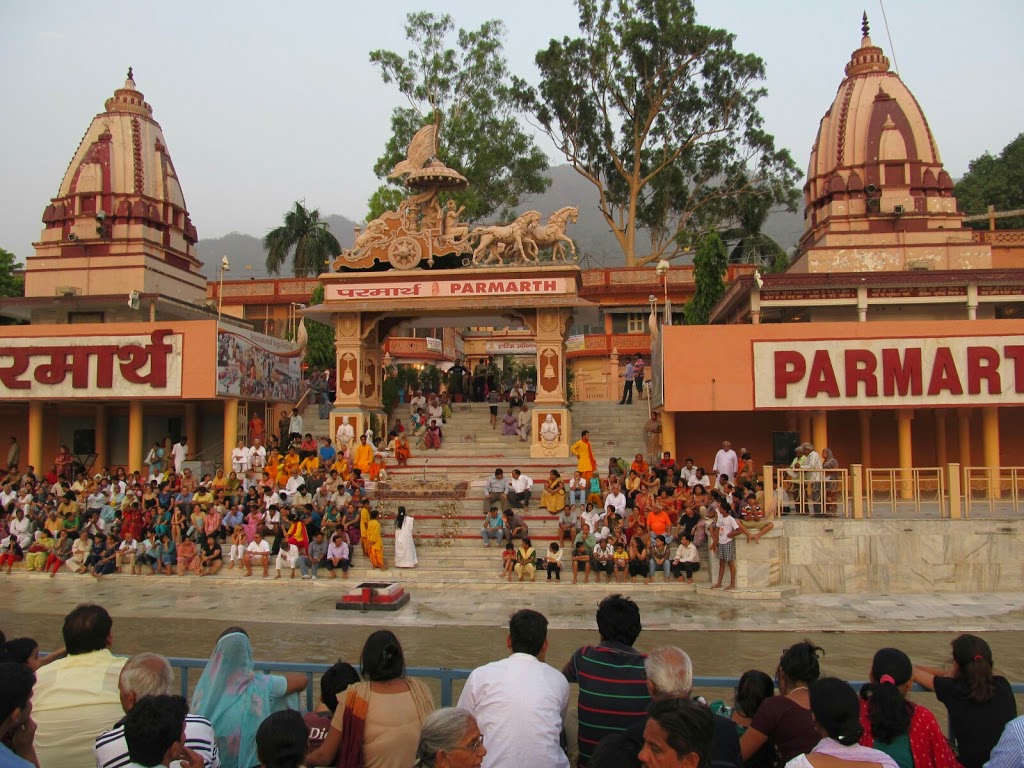 Paramarth Niketan in Rishikesh is the largest ashram in there which has over 1000 rooms with modern and traditional amenities. It is situated on the banks of river Ganga which is the largest Himalayan river in India. This place is extremely beautiful and there are thousands of pilgrims visiting every year to attain spiritual awareness and to practice simplicity. The ashram is surrounded by beautiful landscapes. The gurgling river Ganga and majestic mountain ranges along with lush green forests indeed make it an enchanting experience for the residents. Nature itself has healing powers over the human soul. Along with that, this ashram takes you through a different lifestyle. Morning prayers, yoga, meditation, lectures, kirtan, and artis help you to calm down. You can also get Ayurveda, acupressure, stress management treatments here.
Are you on a quest to reinvent yourself? Some of these spiritual destinations can help you to understand yourself better and to attain mindfulness.