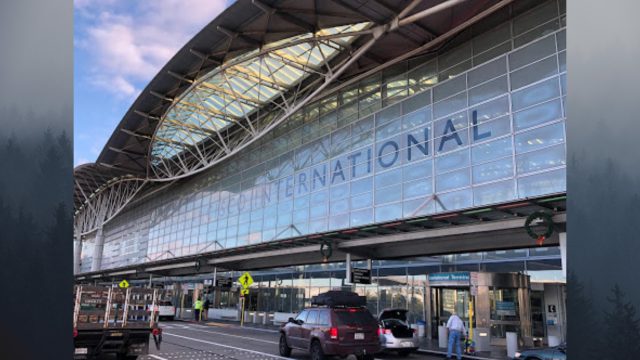 The San Francisco International Airport (SFO) is rated as one of the Best airports in the United States of America. The airport also has the distinction of being the largest in the San Francisco Bay Area. That aside, it also ranks as one of the busiest airports in California.
The sheer size of the airport can be intimidating for first-time travellers. Given the huge size of the airport, finding your way around it might seem like a Herculean task, but that is not the case. Everything at the airport is streamlined, keeping in mind comfort, convenience and ease. 
Sanfrancisco International Airport – Map
The San Francisco International Airport has every possible facility that a traveller might need. We have curated a San Francisco International Airport guide, to help you navigate your way around it. The guide lists facilities within the airport precincts and nearby places, that travellers will find helpful.
Information Booths
Travellers arriving at San Francisco International Airport get free access to computerised information kiosks, located inside Airport Information Booths. You will find these in the arrival areas, at all terminals. 
Transfer between terminals
Travellers can access the AirTrain service that runs 24/7, to move from one terminal to another. The AirTrain can also be used to reach the Bay Area Rapid Transit (BART) station, parking area and car hire centre. 
Public Transport
The public transport facilities, at the airport, are pretty good. You can access them easily from all the terminals at SFO. Buses operate around-the-clock from just outside the terminals. They cover destinations in South San Francisco, San Mateo County and Palo Alto.  
Shared minibus shuttles and taxis are available for hire from outside all terminals. 
Express rail service (BART) runs from SFO to central San Francisco, San Mateo County and the East Bay. If you are travelling to San José you can take the express rail from the SFO BART station at the International Terminal to Millbrae Station and from there take a Caltrain shuttle to your destination.
Car rental
If you want to rent a car, you will find a lot of options at your disposal. However, the car rental centre is at a slight distance from the airport but it is easily accessible from BART station. Quite a few car rental companies are located at the rental car centre, including Hertz, Alamo, Dollar, Fox, Thrifty, Avis, Enterprise, Budget and National.
Money
Arrival and departure areas, in all terminals, have ATMs. Additionally, there is a full-service bank in Terminal 3. That is not all, you will find automated currency exchange machines and Bureaux de change at many locations at the International Terminal.
Food
When it comes to food, there is a host of choices available, at the San Francisco International Airport. You will find delis and kiosks at every terminal, where you can grab a quick bite. If you feel like something fancier, there are cafés and proper restaurants for the perfect sit-down meal.
Terminal 1 and 2 have American restaurants that serve traditional American food. You can savour Japanese and Mexican cuisine at restaurants in the International Terminal and at Terminal 2. You will always find a place that serves food, even in the dead of night. Some cafés remain open 24/7.
Airport lounges
Lounges are spread across the airport, while a few cater exclusively to passengers flying United Airlines, Delta Airlines and American Airlines, there are others that allow access to all travellers. To gain access to these lounges you can either use your lounge membership or book the facility, in advance. A lounge can be booked online, for a small fee.
Duty Free shopping
There is a wide array of duty-free shops, selling a variety of goods, in the International Terminal area. You can shop for high-end fashion brands, perfumes, cosmetics, chocolates, premium wines, watches, jewellery, gadgets, handbags, souvenir and gift or books and magazines, travel accessories and a whole lot of other things.
Communication and connectivity
Wi-Fi access is free at the San Francisco International Airport. You can even rent a mobile phone for a nominal fee. And, you will find telephones with data ports available at the terminals.
Shower cubicles
Travellers can use the shower facility at Freshen Up, located at the International Terminal. A shower cubicle can be rented for half-an-hour at just $25. The cost includes toiletries, fresh towels, shower shoes and hairdryer. You can avail a special discount here if you belong to the Armed Forces.  
Shower facilities are also available in the private lounges of Delta, United and American.
Spa treatment
Fully functional spa service run by XpressSpa offers a variety of services including facial, manicure and pedicure, massage etc., at four different locations within the airport premises. You can choose any of them and get yourself pampered. 
Direction to the XpressSpa
There are two spa centres in terminal 3, near Gate no. 60 and near Gates 80-90. There is one at Gate no.100 at the International Terminal and another in Terminal 2.
Art exhibits
Art exhibits are on display all around the airport. Some of these exhibits are permanent and the others are changed periodically. You can browse through the airport website, for the latest information on these exhibits.
Aviation Museum
Located at the International Terminal, the aviation museum remains open every day, between 10:30 and 16:30 hours.
Nap rooms
If you are tired and feel like a nap you can rent a nap room for 8 hours, for $120. The rooms come furnished with a comfortable bed, a desk and a mirror.
For cheap international flights talk to our experts to get unpublished fares.