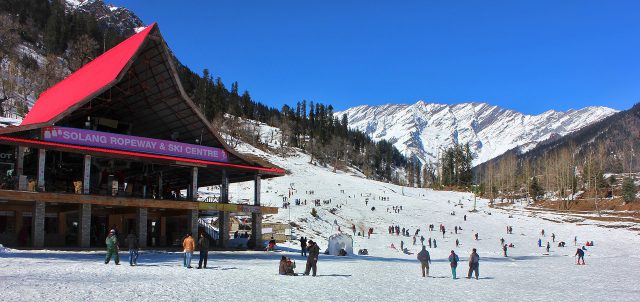 Manali is one of the most celebrated exotic tourist destinations in India. The snow cladded majestic mountain ranges, enchanting valleys, hills, and traditions make Manali, anybody's dream destination. There are multiple other must-visit tourist spots around Manali which you should not miss out during your journey. They are the following:
Hadimba Temple
It is one of the most visited tourist locations in Manali. Constructed in 1553, this temple is known in the name of its deity, who is a mythical demon goddess called Hidimba. It is also called as Dhurguni temple. Hidimba is a character from Mahabharata, which is Purana. In Mahabharata, Hidimba was Bhima's wife, one of the 5 sons of Kunti Devi. The entire temple is rich with stone and wooden carvings depicting Purana. These wooden carvings are extremely precious. The temple is built in Indian style architecture. The wooden shikar of this temple is very famous for its height which is 24 meters.  There are depictions of animals, human beings, myths and Puranas around the temple. There is also a famous rope in front of the temple which is according to the legend used for tying the hands of sinners and to swing them against the rocks. The air of myths, legends, stories, and Purana gives this temple an ancient Indian mythology vibration which is absolutely marvelous to experience.  This place is open from 8AM- 7 PM. There are no entry fees and you can take as many pictures as you would like.
Solang Valley
Situated at a distance of 13 KM from Manali, Solang valley is a magnetic place. This place is delightful as the village is mystical in nature. There are amazing views of lakes, diverse fauna, and flora, majestic mountain ranges, and rocks everywhere. The hospitable and friendly villagers are very welcoming as well. This place in winter offers snow cladded picture perfect views with a fine experience. Besides, there are facilities for skiing and snowboarding here. If you do not know how to ski, do not be worried. You can get classes and workshops for learning the basics.   In summer, this is an adventure sports destination for tourists around the world. You can experience paragliding here even though there are safety and security concerns. If you are in a mood to visit any spiritual places you can hire a pony and climb up to the hill to visit the Shiva temple nearby. Besides paragliding, you can also experience parachuting, horseback riding, and zorbing. You can also trek across the Solang Valley. There is Solang Nullah, where you can watch the sights of glaciers and ice. The white now cladded villages and peaks are must watch if you are going to Manali.  There are also water streams and settlements nearby.
Jugni Falls
The Jugni waterfalls are one of the most alluring views you will ever come across. It is only 3 km away from the Manali markets. The mesmerizing waterfalls are indeed such a beauty to remember. You can either walk or go there by foot. Either way, it is a sight you should never miss. If you are trekking, the path is amazingly breathtaking. You will come across splendid orchards, scenic drives, small streams and lakes around. The top side of the waterfalls will unveil the beauty of nature and mesmerize you beyond imagination. You will also come across the Rohtang pass peaks and Beas river on the way.
Old Manali
Old Manali is all about villages and settlements. The village charm you feel over there will take you back to several eras. You will feel the difference between the world we live in and how our ancestors used to live, right in front of your eyes. It might even help you to look at the world differently after that. This place is enchanting beyond words. The traditions and old town charm is carefully preserved and retained here. To reach here, all you have to do is to walk to the other side of the main Manali tourist town by crossing the Manalsu river bridge. The village paths are really beautiful too with abundant lushes of greenery everywhere and tall trees providing shade for you on both sides. But do not let the settings fool you. You can eat the world cuisine here. Pasta, burger or pizza? Yes, the old town can accommodate your hunger needs!
Rohtang Pass
Rohtang pass is one of the most popular spots in Manali. Even though it takes a 2-3 hours drive from Manali to reach Rohtang pass, it is completely worth it. Rohtang pass is most precious during winter. As it connects Kullu and Spiti valleys you can definitely imagine the amount of snow in the past. It is the specialty of the region as well as it offers a breathtaking sight. There are also winters and adventurous sports arranged. You can experience skating, snow scooter and even paragliding here. This place is the cultural centres of both Hinduism and Buddhism.
Malana
Malana is an ancient village settlement too like Old Manali but located in the northeast of Kullu. Malana a very popular tourist destination amongst the international travelers visiting India. There are domestic tourists as well. The small town charm is preserved and kept well in Malana as well which will make you completely wondered. The village is run very efficiently through their local systems. Malana is famous for their cannabis producer called Malana cream which is even though illegal creates the main source of economy in the village. The villagers are warm in general, however they do not appreciate personal touches as they believe that it destroys their purity. You can either use state transport buses or even trek to reach the beautiful village of Malana.
If you have been planning a trip to the north-eastern parts of India, let it be Manali. Winter or summer, it doesn't matter as the place will never fail to entertain you. But, winter is the most special season to visit as here you can experience more snow cladded enchanting views than anywhere else in India.
Get some of the best deals for your USA to India airtickets