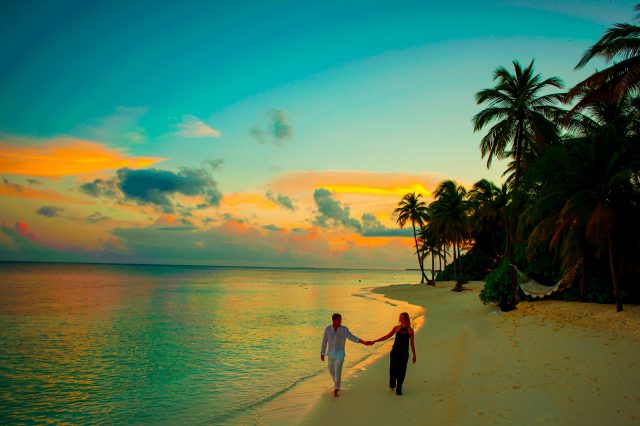 What is your fantasy of a mystical honeymoon? Wandering around islands, enjoying sunsets with your partner at the beaches, spending time in the middle of water bodies, roaming around the snowclad villages overlooked by the Himalayan mountain ranges or living in ancient forts and palaces? Well, top 7 honeymoon destinations around India are waiting for you.
Cheap flights to India! book your tickets now
Alleppey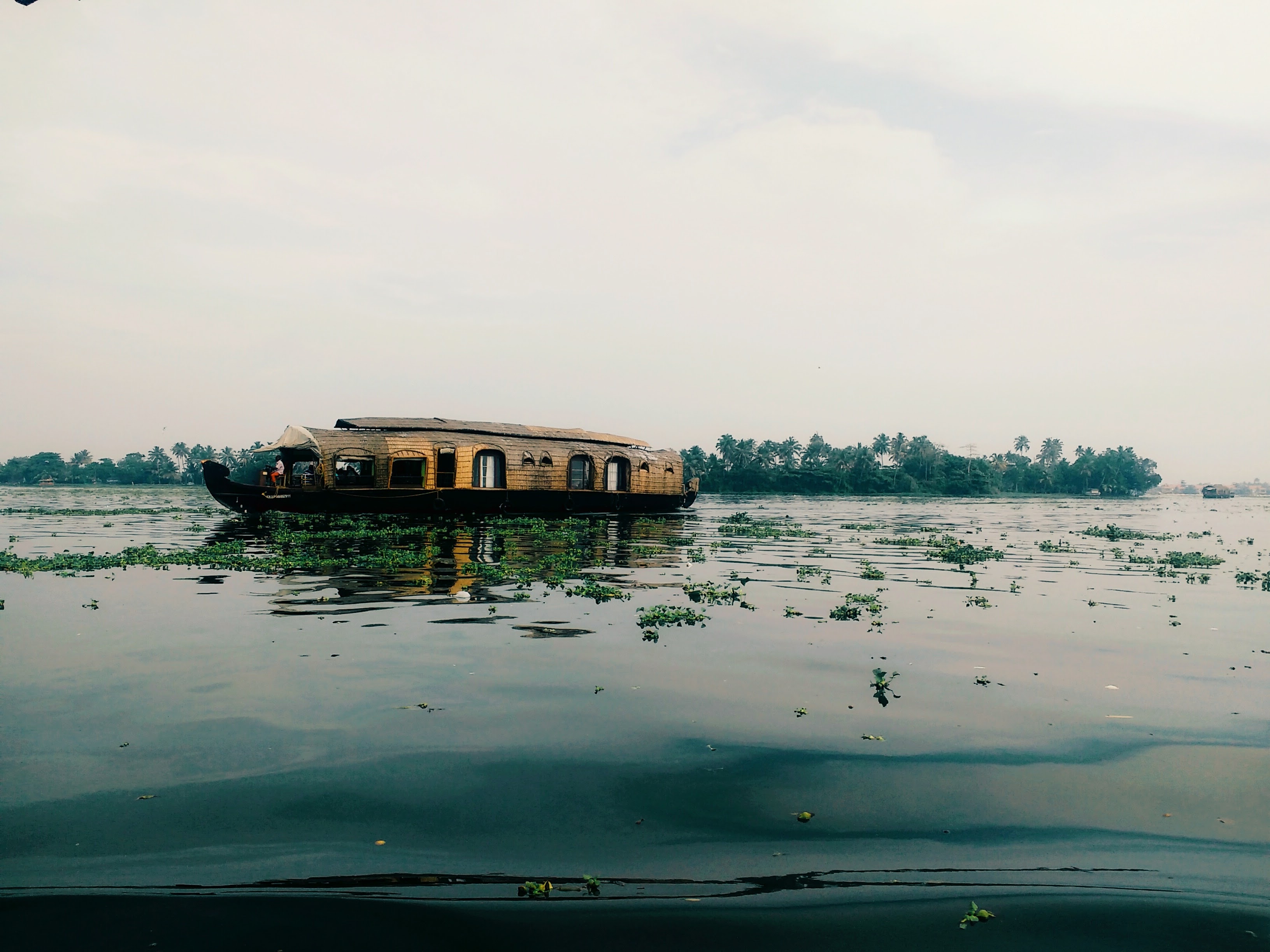 Known as the Venetian capital of Kerala, the southernmost state in India, Alleppey is a beautiful landmass surrounded by lakes, lagoons, backwaters, and beaches. This place is rich in greenery as there are many coconut trees, paddy fields and bushes around.  In Alleppey, you can enjoy your honeymoon in the middle of the water, by hiring a houseboat which is indeed romantic. You can also enjoy the temple heritage of Kerala, different traditional art forms, and authentic Indian seafood platter here. An amalgamation of all these experiences makes Alleppey one of the best honeymoon destinations in India.
Read this blog about the Places to Visit in India for Solo travellers
Pondicherry
Alternatively called Puducherry, Pondicherry is the French town in India.  It is one of the 7 union territories, which was once home to French colonization.  If you seek for an international experience within your budget inside India, Pondy is your place. The remnants of French colonization still give European aesthetics to the place. This extravagant ambience is the main reason why Pondy is an amazing honeymoon destination in India. Pondicherry Auroville, Puducherry botanical gardens, Pondicherry museums, tree houses, centuries-old churches, war memorial etc. are the main attractions of the place. Also, you can enjoy the flavours and delicacies of various cuisines including Indian and foreign, in Pondicherry.
Leh
Located in the northernmost state of India Jammu & Kashmir, Leh is famous for its scenic beauty derived from snow-covered Himalayan valleys and hills. It is one of the most sought honeymoon destinations in India. Leh Palace, Namgyal Tsemo Gompa, Shanti Stupa, Cho Khang Gompa, Gurdwara Pathar Sahib, Sankar Gompa and village, War Museum, The Victory Tower, Zorawar Fort etc. are some of the tourist attractions in Leh. Leh experiences cold winters from November to March. If you are looking for a cold- honeymoon destination, this period would be the best.
Goa
Goa is the smallest state in India, yet the best honeymoon destination in the country.  It is famous for beaches, nightlife, and architecture. The architecture of Goa is a combination of Goan, Ottoman and Portuguese styles.  If you are looking for a honeymoon location with these elements, Goa is perfect for you. Goa was a Portuguese colony in the early years. The place still has traces of Portuguese colonization which makes it unique in the culture and lifestyle. Including the places listed by the World Heritage Sites like Bom Jesus Basilica and the Churches and Convents of Old Goa, this place is rich with attractions.
Goa is famous for the forts built in Portuguese architectural style including Mormugao, Cabo de Rama, Tiracol, Aguada etc. There are also temples like Shanta Durga Temple, the Shri Damodar Temple, and the Mahalasa Temple and museums like the Goa State Museum, the Naval Aviation Museum and the National Institute of Oceanography for you to visit. At goa, you can also experience multiple cuisines of different flavours.
Tawang
Tawang is located in Arunachal Pradesh at a height of 3000 meters above the sea level in the north-eastern part of India. It is a beautiful village in the Himalayan valley where people depend largely on farming and animal husbandry. Hence you can see beautiful farmlands and grazing animals including sheep in the meadows making it an alluring honeymoon destination in India. Earlier, Tawang was claimed both by Hong Kong and Taiwan. It was once also part of Tibet explaining the extensive practice of Buddhism in the region. Tawang monastery, Sela pass, Jang waterfall etc. in Tawang are the most visited attractions.
Lakshadweep
Lakshadweep is a union territory of India, which is an archipelago with ten inhabited and 17 uninhabited islands. This place is heavenly with greenish-blue water and sparkling sand everywhere. It is India's coral island in the Arabian Sea with coral reefs on the brim. Lakshadweep is also famous for water sports activities like Scuba diving, Surfing, Kayaking, Snorkeling, Waterskiing etc. contributing Lakshadweep to become a unique honeymoon destination in India
Udaipur
Located in the eastern part of Rajasthan, almost in the middle of Mumbai and Delhi, and separated from the Thar Desert by Aravali, ranges, Udaipur is one of the most celebrated cities in India. Surrounded by 7 lakes, it is called 'the city of lakes' and is considered as one of the best romantic honeymoon and holiday destinations in India. Among the seven lakes, the most visited are Fateh Sagar, Gangasagar, Pichola, Swaroop Sagar, Dhoodh Talai lakes. Udaipur is renowned for the glorious forts, majestic palaces, temple arts, architecture, gardens, historic galleries, and festivals. Udaipur is blessed with scenic beauty and geographical variety as there are huge lakes, plateaus, plains, forests, and rivers. This place is also enriched with traditions beautiful crafts. Udaipur is a geographic and cultural tourist destination at the same time. If you want to have an enchanting honeymoon experience, Udaipur is your place. The City Palace. Lake Palace, Jag Mandir, etc. are some of the most famous tourist attractions. At the end of your honeymoon, bringing home a handcrafted Udaipur souvenir wouldn't be a bad idea.
As you might have already figured by now, India has the best honeymoon destinations in the world. There are all kinds of locations available to satisfy your romantic dreams. Be it beaches, islands, deserts, palaces, valleys or backwaters. Now, don't be agitated. Go ahead and book your dream honeymoon trip! Grab the cheap flights to India with Taj Travel.