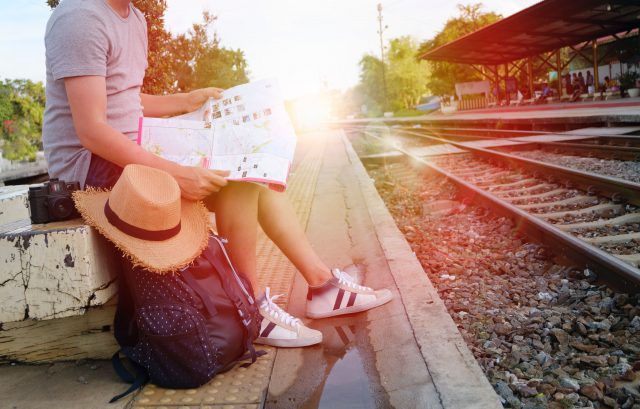 Indian Railway – Beginners' Guide 
India is one of the internally well-connected nations in the world through the cheapest public transportation facilities. No visit to India is perfect without experiencing the Indian train journey. Unlike in developed countries, people do not own individual vehicles in rural areas. In the urban areas, because of the population density and traffic, people highly still depend on public transportation systems. The Indian Railway has prominence while talking about the transportation system in India. It is the third largest of the World's largest passenger rail network after Russia and China connecting the nooks and corners of the country. 23 million people use the trains on a daily basis as the railway lines extend over 66,000 km and 6800 stations across India. Indian railway is the largest government employment source in the country with a staff of over 1.5 million. The journey can be convenient, affordable and enjoyable depending on the seat you choose.  
Here is a complete guide to traveling via Indian Railways for international travelers. These tips for train travel in India will help make your trip as enjoyable as possible.
How to book Indian train tickets?
Booking railway tickets in India can be a little tricky. When 23 million people use this method of transportation facility on a daily basis it is only understandable that the tickets might be sold out faster than you can imagine.
If you are not on a spontaneous vacation, it is always advisable to book your train tickets beforehand. Indian railway offers the facility to book the tickets 120 days prior to the journey. Booking your train tickets in advance will make sure you affirm your preference regarding berths. It is recommended as the prices will be cheaper and there will be more seating options to choose from if you are booking in advance. Also, it will save you from the trouble of being on the waiting list during the peak seasons.
There are multiple ways to book your train tickets. Booking exclusive India rail Tour holiday packages is great for people visiting India. You can find an agent you trust to get your tickets booked. This travel agent might charge you a service fee for rendering you the assistance.
Traveling in the unreserved train compartment is not advisable for foreign travelers.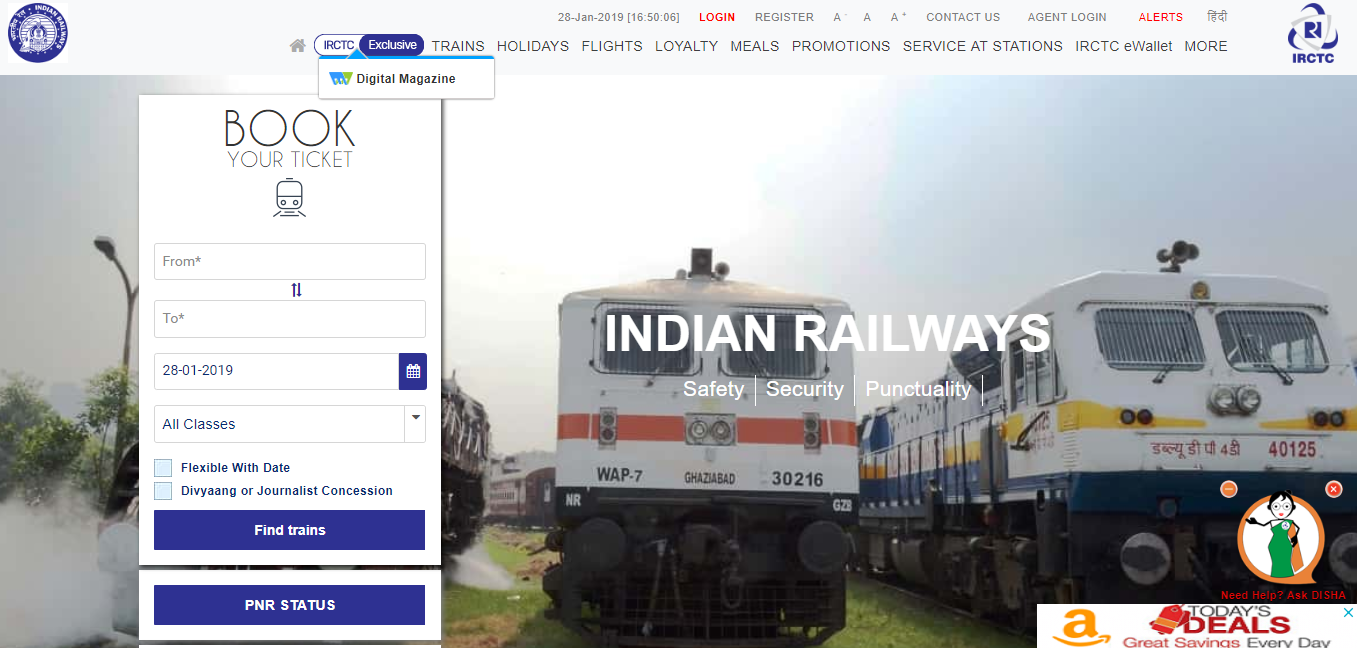 Next method is to book through the Indian railway website. You can go to the official IRCTC website and book your railway tickets for your convenient dates. The website might not be very user-friendly and you might find the information scattered around. A fair warning, it could be really slow and the payment gateway might fail the transaction a few times. And if you are using an international payment method, you might find it a little disappointing as the system doesn't accept a lot of them.
The most common method to do it in the internet era is through apps. Indian Railway has an official app called IRCTC for booking train tickets and checking schedules. It is available on apple store and Google Play. Also, there are third-party apps such as clear trip and ixigo.  Visit these apps for railway train inquiry; check the Indian railway time table and plan accordingly.  Indian railway inquiry between two stations will fetch you a list of all available trains to a particular route. 
The last resort is to buy tickets from the Indian railway station counters. The problem with this facility is that it is a little bit of a gamble. You will not have any guarantee about the ticket. Even if you manage to obtain a ticket, you might not be able to secure a sleeper class seat or if in a general compartment, no seat at all. If you are a tourist, it is better not going through that experience.
Indian ticket classes you should know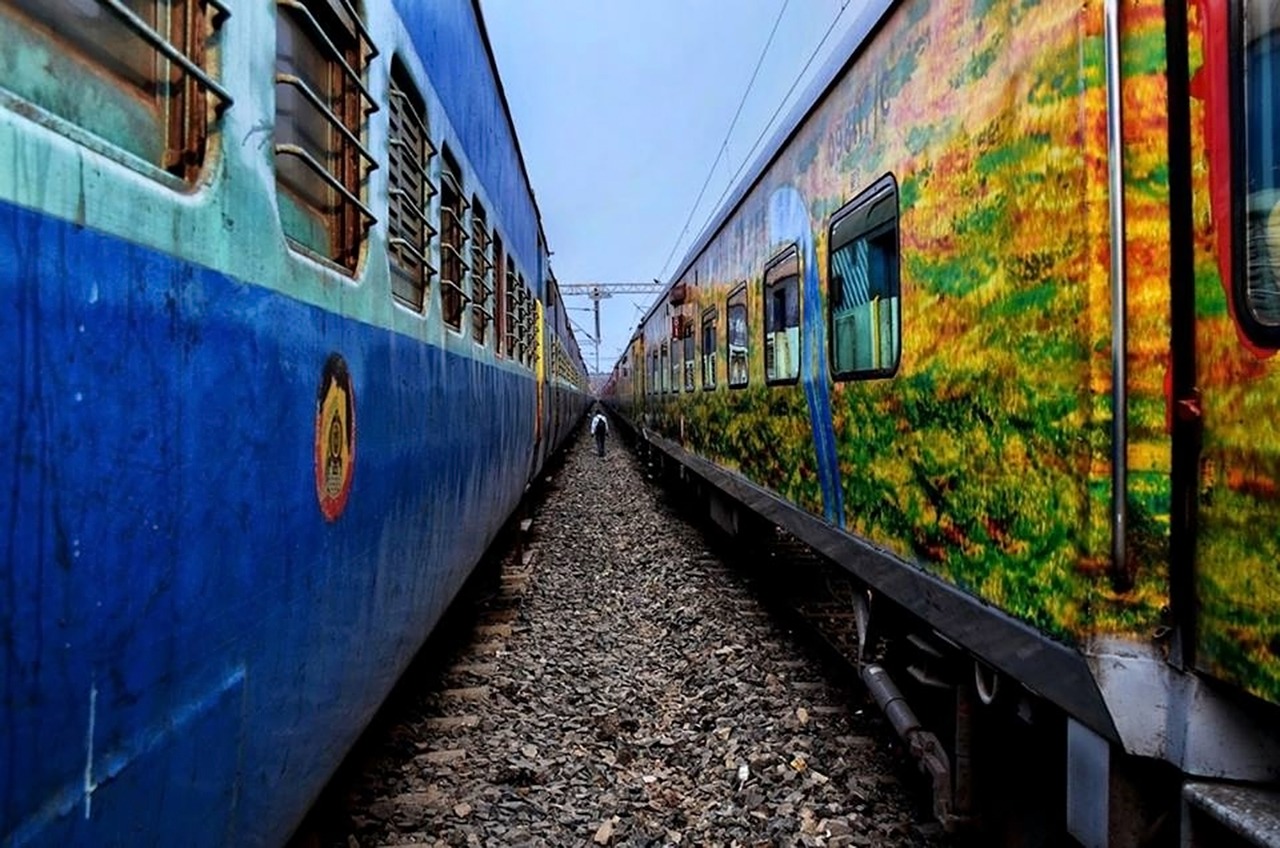 While you open the app or go through the website for booking railway tickets in India, it could be a chaotic experience if you are not familiar with the Indian train classes and types of tickets you can get. There are 5 classes available generally for you to choose from. They are the following:
Air-conditioned first class (AC1 or 1A)
This is the premium class which is available for passengers. Booking with an AC1 train will help you secure air-conditioned and compartments can be locked. There will be only 2-4 berths in each cabin. It is expensive comparatively. But this class might not be available in every train.
Air-conditioned 2-tier (AC2 or 2A)  
This is a good class to travel in too. You will have an air-conditioned facility, blankets, sealed windows, and curtains for some privacy. There will be 2 bunkers in the same cabin.
Read this blog about How to stay safe while travelling to India
Air-conditioned 3-tier (AC3 or 3A)
It is similar to AC2 but there will be 3 bunkers in the cabin. You will have no curtains for privacy. This is the last AC class and comparatively cheaper than the above two classes. 
Sleeper Class (SL)
Sleeper class cabins are the most common in every Indian train. You can book them and use a seat for yourself until the end of the journey. Use can read, sleep or eat during that period. There wouldn't be Ac in the cabin but the windows will be unlocked. You can feel the air of the places you pass by. You can click pictures as well. But there will be no privacy or blankets. You need to be careful about your belongings.
General Class
You will have this option when you book at the last minute. There is no guarantee about the seats. The cabin will be crowded and noisy. If you are looking for a very different experience, you can try this. But I must warn you, it will not be a comfortable journey. And you need to be really careful about the people who enter and leave at each stop.
Different types of Indian train tickets
Yes. Just like classes, there are different categories of tickets as well.  They generally indicate the status of your ticket.
CNF
CNF indicates that you have a confirmed ticket on the train you chose.
RAC (Reservation Against Cancellation)
If the ticket shows that you're on RAC, it means that your journey on the train is confirmed; Nevertheless, chances are there for not getting a seat. Once some of the already reserved train passengers cancel their tickets, you will get a confirmed seat.
Waitlist (WL) tickets
WL shows that you are on the waiting list. Unless you are moved at least to RAC, you cannot travel on the train.
Tatkal(TC)
You can book for a tatkal if you need to be somewhere in a short notice. It can be booked only one day prior to the journey until the train starts from its original starting point. It could be a little expensive.
More Tips for a Safe Indian Train journey
–    Try to book tickets in advance

–    Unless you are in the AC classes, people will keep walk in and out of every compartment

–    Do not expect higher standards of cleanliness

–    Keep your belongings safe

–    Do not accept food or drinks from strangers

–    If possible, try to avoid food from the train as well

–    Washrooms can be terrible

–    Train timetables are not efficient, expect delays

–    Do not fall into the traps of scammers, frauds, and thieves
Read More about Train Travelling tips for foreigners in India
If you are clear about all the information above, I promise you that there won't be many surprises or shocks in your journey. Indian railway journeys are altogether a different experience. If you prepare well in advance and avoid last minute hurry-buries and also take necessary precautions by focusing on the tips, you can have an adventurous yet an enjoyable trip at affordable costs by making use of the Indian railway facilities.