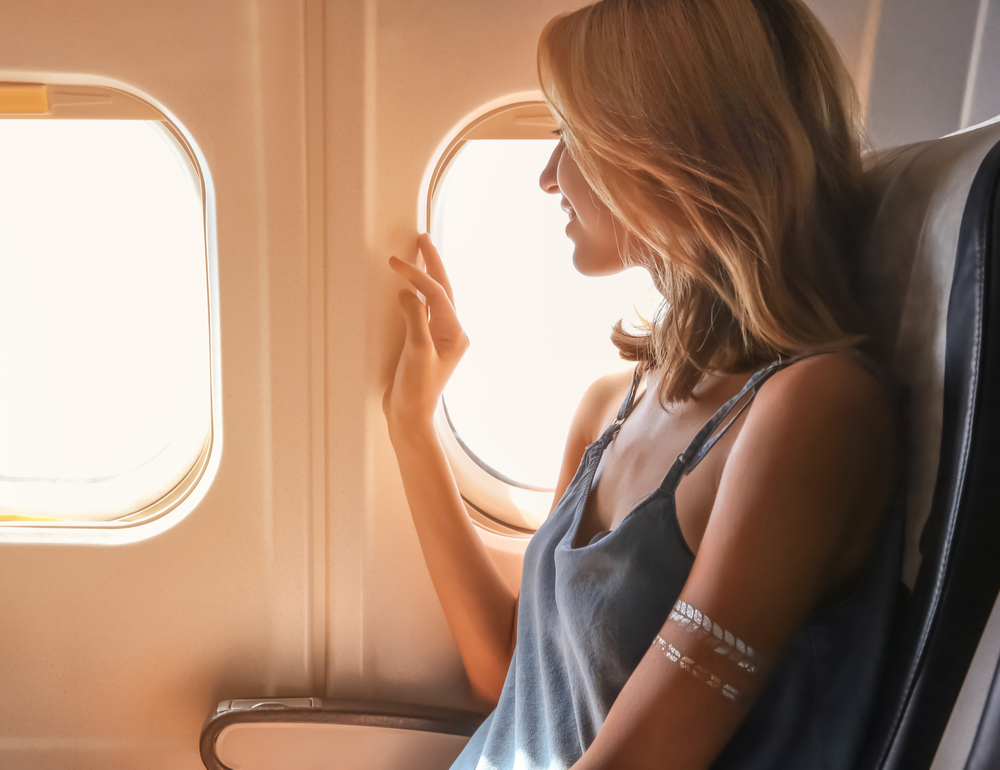 We all have our own skin care and protection routines. But is it enough when you are on air and have long flights? Not really. You need additional In-flight skincare routine to protect your skin. Here are some:
Drink Water
Drinking so much water will help you stay hydrated during your flight. It is important to start your preparation from inside the body. You can even drink mineral springs water, coconut or Aloe Vera water to stay well hydrated. It is true that you can request water to the flight attendants as many times as you like. But you do not want to seem like a needy person who demands water quite often, do you? Or you don't want to be the person getting up from your seat and distracting other passengers either by walking several times to the washroom. But it is highly essential to stay hydrated during your flights as you hit high altitudes and your body respond in dissimilar ways. Especially if you're having long inter-continental flights, make sure to drink enough water before you board the flight itself. Try to even carry a bottle of water. Some airports and even airlines are really strict about carrying bottles to the flights. Make sure that you adhere to their policies while carrying the water bottle.
Use Intense Moisturiser  
With the high and low altitude differences, artificial lights, air-conditioning, and gases, the inside of the aircraft generally is dry. By the end of the journey, normally you will feel intense dryness on the skin which is not appropriate for your skincare routine. Sometimes, you even feel the presence of excess oil on the skin. How to avoid it? Prior to a flight, instead of normal moisturizer, try to use thick or intense moisturizing formula. Try to apply that in layers a few times after certain intervals.  You can also use humectant serums for this purpose. The high levels of glycerine present in it will act as an intensive moisturizer. You can try night crèmes as alternatives in case you do not have humectant serums. However, try to have maximum moisture on the skin regardless of the means.
Use SPF Protection
The SPF protection is a part of the normal skin regime of an average person. It has long-term benefits on the skin as well as against cancer. Yes, I know what you are thinking. " I'm sitting inside the aircraft. Why do I need sun protection? Do not forget that you are closer to the rays of the sun when you're flying. You do experience intense exposure of the sun if you're sitting on the window seat especially if you're flying during the daytime. Try to use a sunscreen which has an SPF level of 50 at least. It will offer protection against UVA and UVB. Also, you can feel the difference when you apply it on the skin itself.
Go Easy on Eye Makeup
Eye makeup is something most people are crazy about. But if you're flying, rethink about it. Is it absolutely necessary to put on a lot of eye makeup including mascara? Because, as mentioned earlier, the humidity level up in the air is very different from that of the land. Besides, if you're having a long flight, there are higher chances for you to fall asleep. It is quite common as you have not many ways to spend your time. Once you wake up, definitely there's going to be some visible difference to the eye makeup. The important thing is that, it is not visible to ourselves first, but to others. Hence, make sure to use minimal eye makeup when you are flying.
Carry Wet Wipes  
Wet wipes are really inevitable when you're flying. If any aspect of your make up goes wrong at any point in time, they can save you from embarrassment. Also, they can be used to cleanse your hands after a meal or your face after your sleep. But be careful while choosing the fragrance of the wipe. Choose a neutral fragrance as it could last for a while on the flight and eventually might disturb your co-passengers.
  6. Use Hydrating Products  
During your flights, it is wise to carry hydrants with you. Hydrants are easy to carry and subtle to use. And definitely very effective. It will keep your skin moisturized at any point in time. A hydrating mist can help you touch up your makeup without any disturbances if at all you are putting on any. Be careful while carrying them as any liquid bottles carrying an excess quantity more than 100ml can be confiscated by the airport authorities.
Carry Oils  
There are some natural oils such as avocado and lavender essential oils, which has good skincare properties. You can use them on a flight. They provide purifying, calming and soothing experience to the skin. It will also keep the skin hydrated and warm.
Avoid Foundation
Foundations, in general, might cover your skin and gives out a glossy look which appeals to the eyes. But, on a flight journey, foundations are not your friend as their formulas restrict the entry of air keep your pores filled. It will clog the pores when there are temperature differences and thereby harm your skin. Your skin needs to breathe. If you're absolutely certain about using some skin product to even your skin tone, go for BB crèmes and tinted moisturizers. It will be helpful for your skin.
Let Lip Balm be Your Friend
Lipsticks are loved by everyone. But during a flight, using strong lipsticks is not a good idea. They will dry out the natural moisture of the lips and darken your lips. You can use mild lip balms as alternatives during your journey. It will keep your lips hydrated and soft. You can always apply your favourite lipstick once you're back in the land.
Carry Hair Spray  
Hair is the most attention-drawing element of a person. It doesn't matter what your attire is if your hair doesn't look fine. Hence be sure to carry hairsprays so that your hair will be set properly during the flight and it will give a fresh look once you're back in the land as well.
Use Hand Crème
Your hand care is always as important as the face care routine. Carry and use hand crèmes during your flight to keep them nourished and moisturized. It is really important.
Now that you have come across the best in-flight travel skincare routine, do not worry about your next flight. Just pack and practice accordingly so that your skin will glow.
And, do not forget to put on the makeup as you prefer, if you like to, once you have landed back at the destination airport!