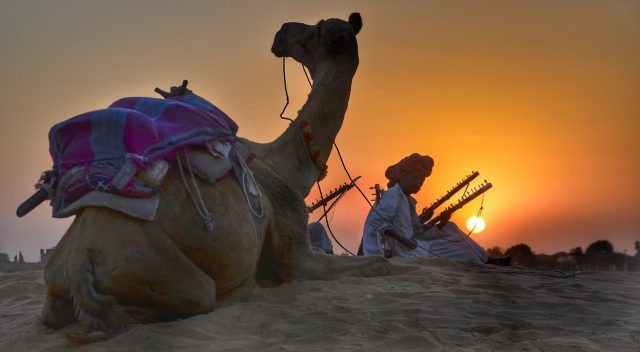 The beautiful and ancient glory Rajasthan is a land that illuminates dusky havelis and fluorescent palaces; it is a place to visit for once and for all flamboyant street markets that clearly pierce through the soul of every shopaholic. Might just add a detail, such existences are found in every corner of places in Rajasthan and why not, these sites are especially for those who seek for the place that has a bundle of alluring beauty and heart filled things that you cannot deny. Just like the radiant lake(S) twinkle as the rays of the Sun glares on it; you too can grab the chance of seeing this beautiful irony of nature. Not to forget, there are some hidden gems which are yet to be explored by many. Let us help you with some of the unexplored destinations in India:

CHURU
Churu: The beauty of Churu is no different from the rest of the places in Rajasthan, just to the fact that Churu is taken as the gateway to the Great Indian Desert. The sand dunes perfectly illuminate golden brown surface as the rays of the Sun hit the Earth with the beautiful radiance. It also offers a magical feeling that will make you drool over its beauty. The interesting attractions that surround Churu are old havelis which are built by Surana and Kothari merchants. Don't forget to pay for the visit to Bagla Haveli and Hawa Mahal wherein you will find 1,111 windows that are defined as the work of art. Churu also has a traditionally designed reservoir which is famously known as Sethani Ka Johara, built by timber merchant's wife of 'Bhagwandas Bagla'. It is said that this reservoir is never dry even during humid summers. Not to forget, if you are into wildlife activities, you can visit Tal Chhapar Sanctuary.
Dausa

Dausa: You might be familiar with the famous attraction named Chand Baori, well, this beauty is located in Dausa. Just because of its old look, it brings charm and helps you in admiring the place in silence. If you are planning a holiday in Dausa, this stunner must be on your bucket list. However, it is now covered into a luxurious hotel, still, you can visit in the premises or can sit for the lunch and embrace the royal feeling.
JALORE

Jalore: It is a city which is famous for offering the best granite globally and this is where you get to delve the beauty of Rajasthan. You can also find shrines and temples, all you need to do is walk a bit. This fort was built in the 8th and 10th centuries with an impressive architecture. However, this fort is in ruins, but it still holds the gorgeous sparks of stone cravings everywhere.
Sikar: This place is an offbeat venture in Rajasthan; it might not have much to offer, but it is filled with forts, palaces, cenotaphs, havelis, and sand all around. Here, you can make a visit to an exotic place called Dantaramgarh – A small village at a certain distance of almost 52 km from Sikar is famous for the ancient fort built by Guman Singh Ladkhani. Another fort you can visit is Devgarh. Visiting Sikar is more of an adventurous journey because there are roads for the fort. You will enjoy every bit of their history.
Read this article about the best eco-tourism destinations in India
RAJSAMAND

Rajsamand: A small city in Rajasthan is one of the beautiful destinations. It is not so famous but it is filled with numerous things wherein you can laze around. This paradise is the perfect getaway for escaping your city and working hours. Don't forget to pay your visit to Rajsamand Lake which offers the beauty of shaded mountains and Kankroli Temple which is near to the lake. If you are looking for the hilltop, a massive and grand Kumbhalgarh fort is one of the beautiful forts of Rajasthan. Believe it or not, this fort has the longest walls among all other forts. You can also opt for wildlife tour at Kumbhalgarh Wildlife Sanctuary. Even for the kids, this place is amazing as they can cherish the jeep safari and catch the sight of different animals. The scenarios of Rajasthan will be worth it! Also, the amid dense forest is waiting for you!
PALI

Pali: Often overshadowed by a lot of many megacities, Pali is not far behind when it's about to be one of the important cities. Precisely, Pali has been an essential part of gorgeous Rajasthan mainly for the merchant activities. Although, Pali is known as an industrial city, which is a compilation of beautiful temples. A noteworthy in the 15th century Ranakpur Jain Temple, which is dedicated to an important figure in the 'Jain Cosmology', 'Adinath'. This complex of Jain temples occupies its place in the beauty of Aravalli Mountains. Sites where visitors can go devote to the godly figures such as Parshuram Mahadev Temple and Nimbo Ka Nath Temple, they both dedicated to Lord Shiva. Apart from this, the other attraction in Pali is a dam that is built across the tributary of 'Luni River' called 'Jawai dam'. It is said to be the biggest dam in Rajasthan. Amazing, isn't it?
NAGAUR

Nagaur: Paying your visit to Nagaur can be extremely pleasing and worthy; don't miss the opportunity to visit the largest saltwater lake in India – Sambhar Lake. Apart from this, you can also embrace the colorful varieties of Indian masalas which are shaped in a pyramid structure. Nagaur fort is certainly a prominent place to see. Other old age monuments that showcase design and art is Taken Dargah, Jain Glass Temple, and Amar Singh's Cenotaph. Deepak Mahal is also an attraction within the walls of Nagaur Fort that cannot be missed. Keep going and explore every bit of it!

On That Note: And the list goes on and on…… We cannot deny the fact that these unexplored destinations captivate every genre of avid travelers by offering only the best possible outcomes, but we really hope you get the urge to explore what's beyond the monotonous places in one and only Rajasthan. Here, we have laid all possible destinations which are still left to be explored; all you have to do is book a Flight ticket or a bus ticket and whisk away. After all, we all need the travel therapy. Hope it helped. Enjoy!

Have a Safe and Happy Traveling!